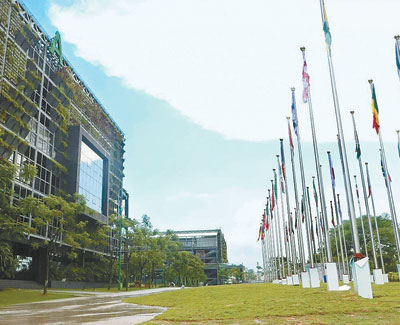 IN many people's opinion, Shenzhen is a modern city full of skyscrapers and busy traffic, and if you want to escape to nature, you are likely to get stuck in another big crowd by the seaside. Actually, there are hidden gems in Shenzhen that are less crowded. Here are some spots recommended for a quiet and relaxing weekend.Shenzhen Universiade Center,
    Longgang District
    Built in 2011 for the 2011 Summer Universiade, the Universiade Center is a world-class stadium with a variety of sports and leisure facilities. What many residents don't know is that the center's facilities are also open to the public.
    If you are a fitness enthusiast, you will enjoy the center's world-class swimming facility with an advanced water purifying system. Other fitness facilities include a football field, indoor basketball court, badminton court and ping-pong halls.
    If you have children, you will be interested in the waterpark designed especially for children outside the swimming center.
    If you are more into culture and art, you will enjoy various types of art exhibited at the venue. For example, there is a blue wall full of hand-painted alcohol bottles. Each bottle has a signature from a Universiade athlete around the world.
    Add: 3001 Longxiang Avenue, Longgang Central District, Longgang District
    Buses: 329, 353, 365, 802, 839, B852, E6, M315, M318, M367, M386 (Sports New City Station)
    Metro: Longgang Line, Universiade Station
    International Low-Carbon City,
    Longgang District
    Also located in Longgang District, the International Low-Carbon City is another recommended spot for those who practice an ecological lifestyle.
    Located in Pingdi Subdistrict, the International Low-Carbon City covers an area of 53.4 square kilometers, and is a joint project between Shenzhen and the Netherlands.
    It is a green area with trees and grass everywhere. Many buildings in the area are covered with plants. Many environmental protection activists gather here regularly to discuss the ecological development of Shenzhen.
    Nearly half of the area has hills and parks. Hiking tracks are built in these areas, which are ideal for hiking, cycling and family fun.
    Add: Gaoqiao Industrial Park, Pingdi Subdistrict, Longgang District
    Buses: B739, 811, M316, V673, M219, M308, 978, 926.
    Qiushuishan Park,
    Longgang District
    Opened in 1998, Qiushuishan Park is a park that blends recreation facilities with natural scenes.
    If you have children, but are hesitant to line up at city parks, this is the place to go. There are many facilities like a roller coaster, ferris wheel, merry-go-round and bumper cars.
    Also if you want to have a relaxing getaway from the city, this is the place for you. A "Great Wall" has been built inside the park along the Qiushui Hill where you can enjoy the beautiful natural scenes while exercising.
    The top of the hill is also the best spot to see an overview of Nanling Village, known as China's First Village due to its fast development after China's reform and opening up.
    The park is also a good place to learn about China's history during the revolution. Recommended venues include Hakka Folk Garden, Wartime Tunnels, Mao Zedong Badges Museum and the Long March Sculpture Garden.
    Add: Nanling Community, Longgang District
    Buses: 306, 371, 822, 383, 376, 379, 359, M271
    Gankeng Hakka Town,
    Longgang District
    Gankeng Hakka Town is a small ancient village located in Longgang District.
    Unlike many ancient villages in the city, Gankeng has far fewer visitors and still maintains its traditional lifestyle.
    Landmark architecture includes a blockhouse, millstone and Zhuangyuan Residence. Zhuangyuan is the highest-ranking student in the national examinations of ancient times.
    Add: Gankeng Community, Buji Subdistrict, Longgang District
    Buses: 980, M224, M227, M273, M324, M346, M414, M363 (Gankeng Village Committee Stop)
    (Wang Yuanyuan)