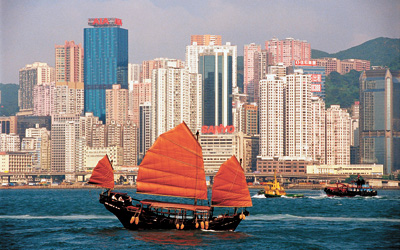 ON hot summer days, some people just want to stay indoors or go shopping in malls. But isn't that a waste of time? The summer is a beautiful time of the year and what better way to spend it than by the sea. Here are some spots in Hong Kong that come highly recommended for a relaxing weekend.
    Victoria Harbor
    Victoria Harbor is a natural harbor situated between Hong Kong Island and Kowloon in Hong Kong. Famous for its spectacular views, the harbor is a major tourist attraction in Hong Kong.
    Victoria Harbor is world-famous for its dramatic panoramic night-time skyline, particularly in the direction facing Hong Kong Island where the skyscrapers are superimposed over the ridges behind them.
    More than just a harbor, Victoria Harbor has played a key role in making Hong Kong what it is today. As it was and remains to be the center for both cultural and commercial activity in Hong Kong. It was named as one of China's eight most beautiful coasts in 2005 by "Scenic Splendor of China."
    Metro: Tsuen Wan line (red), Tsim Sha Tsui Station/ West Rail Line (purple), East Tsim Sha Tsui Station
    Repulse Bay
    Repulse Bay, located in the southern part of Hong Kong Island, is the most spectacular bay in the region. Its name comes from a 19th century battle in which the British army repulsed attacking pirates. Today, the place is a luxurious residential area for dining, relaxation, and aquatic activities.
    The beach stretches alongside clear azure-blue water that gently laps against the seashore. Repulse Bay is a mecca for locals and visitors alike to escape the heat.
    Besides aquatic activities, there are extensive facilities for visitors. Barbecue racks are available under the shade, near the beach. In addition, the area is dotted with hotels, supermarkets, and cafes. A lighthouse near the beach is a popular place to take photos. The Zhenhai Tower Park, built in traditional Chinese style, is located near the beach.
    Metro: Hong Kong Station, Exit A1
    Buses: 6, 6A, 6X, 66 or 260 (Repulse Bay Station)
    Shek O
    Shek O is a beachside village located on the south-eastern part of Hong Kong Island. Famous for the views, the scenery of Shek O is the setting of numerous Cantopop music videos.
    Shek O Beach is one of Hong Kong's more popular public beaches and is known for its water quality. It is a popular weekend and holiday destination, offering a public barbecue area and many restaurants. The rocky cliffs that run alongside the beach provide an excellent place for sports climbing.
    Around one mile north of Shek O Beach, after passing the Shek O Country Club, is Big Wave Bay. As the name suggests, the waves are big, making it a popular destination for surfers. Wind surfing is also popular, particularly off Big Wave Bay and Shek O Beach.
    Both beaches have bars and restaurants, and equipment for hire, such as body-boards and surfboards. In addition, Shek O Beach has a small golf course. Due to the isolated location of Shek O, the environment near the beach remains rustic and quiet.
    Metro: Shau Kei Wan Station, Exit A3
    Buses: 9 or 309
    Stanley
    Stanley is a town and a tourist attraction in Hong Kong. It is located on a peninsula on Hong Kong Island. It is east of Repulse Bay and west of Shek O, adjacent to Chung Hom Kok.
    The Chinese name Chek Chue refers to the original village but "Stanley" generally refers to all of the surrounding areas of the peninsula.
    The main characteristic of the Stanley is the unique atmosphere, a combination of both traditional Chinese culture and Western style.
    The shopping isn't just for tourists however, locals come to shop as well. Large quantities of silk clothing, sportswear and jeans can be found in Stanley. It takes about 25 minutes to walk from the village to the beach.
    Buses: 6, 6A, 6X, 66, 260 (Stanley Plaza Station)
    (A Ding)