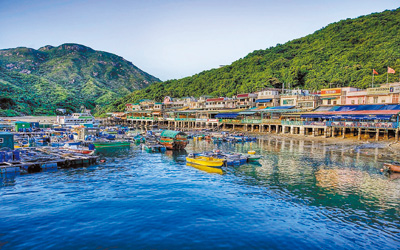 ON hot summer days, some people just want to stay indoors or go shopping in malls. But isn't that a waste of time? The summer is a beautiful time of the year and what better way to spend it than by the sea. Here are some spots in Hong Kong that come highly recommended for a relaxing weekend.
    Lamma Island
    Lamma Island is located to the southwest of Hong Kong Island. It is the third largest island of Hong Kong. The northern village is called Yung Shue Wan and the eastern village is called Sok Kwu Wan.
    Much of the southern area is only accessible by hiking or private boat and is largely uninhabited. Sham Wan, an important breeding site for sea turtles, is located there. Stenhouse Mountain is the tallest mountain on Lamma Island at 353 meters above sea level, situated between Sok Kwu Wan and Sham Wan.
    Lamma Island has long been a quiet and peaceful place that has attracted many young people and expatriates. There are many Western-style restaurants and pubs along the streets. Besides delicious food from around the world, delicate small shops are dotted along the Yung Shue Wan Road selling handicrafts, green living products, etc.
    Ferry: Central Pier 9
    Cheung Chau , Hong Kong
    Cheung Chau is an island 10 kilometers southwest of Hong Kong Island. It is nicknamed "Dumbbell Island" due to its shape. It is one of the oldest inhabited areas of Hong Kong.
    Geographically the island is formed from two mostly granite masses joined by a tombolo. With an area of 2.45 square kilometers, the island is therefore "long," hence the name "Long Island" as translated from Cantonese. Thus, it is redundant to say "Cheung Chau Island."
    Cheung Chau has remained one of the most popular islands in Hong Kong for tourists over the years. Traditional culture and local customs remain visible and are a part of daily life on Cheung Chau.
    Transport: Central Pier 5
    Sai Kung Waterfront Park
    Sai Kung Peninsula is in the easternmost part of the New Territories in Hong Kong.
    The vast majority of the land and sea in Sai Kung remain untouched by urbanization, thus naturally, Sai Kung has become a popular place for hiking in Hong Kong.
    It is also popular for kayaking, snorkeling and swimming among other activities. In addition, Sai Kung's Hoi Ha Wan is one of the most easily accessed coral dive sites in Hong Kong. It is suitable for diver training and for newly certified divers.
    Sai Kung Town is a prime location for seafood lovers, locals and tourists alike. Visitors can stroll around the regional market center of Sai Kung Town or explore the back lanes, visit the Tin Hau Temple, feast on seafood or enjoy different delicacies at Western-style pubs and restaurants. .
    Metro: Sha Tin Station, Exit A
    Bus: 299 (Xigong Station)
    Pui O, Hong Kong
    Pui O is an area on Lantau Island in Hong Kong. It is a popular destination for holiday camping in Hong Kong.
    Visitors may also rent cabins if camping isn't for them. Located in southern Lantau, there are four main villages in Pui O, they are Lo Wai, San Wai, Lo Uk, and Ham Tin.
    The public facilities at the campsites are very comprehensive; visitors have access to washrooms, locker rooms and shower areas. Usually, the campsites are clean and well-kept, but going there on golden week is worth reconsidering.
    Buses: 3M (Tung Chung to Mui Wo Station)
    (A Ding)