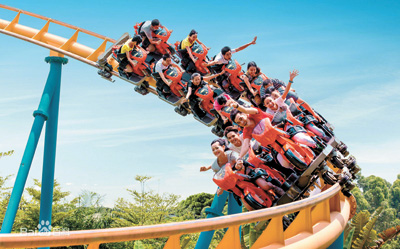 HAVE you been working hard for a long time and are feeling desperate for a break? Well you are in luck, as the holidays are about to arrive — the three-day holiday for the Mid-Autumn Festival and the seven-day holiday for the National Day! If you haven't figured out where to spend your time, why not take a look at the top tourist attractions in Guangdong.
    Currently, there are 11 national 5A (the highest rating) scenic areas in Guangdong, which are all options for the upcoming holidays.
    Guangzhou Chimelong Tourist Resort
    When talking about amusement parks, most people in Guangdong would think of Chimelong. As an icon of Guangzhou, Guangzhou Chimelong Tourist Resort was the first tourist attraction that was rated as the national 5A scenic area in Guangdong. It encompasses several of China's top theme parks, including Chimelong Paradise, Chimelong International Circus, Chimelong Water Park, Chimelong Safari Park, Chimelong Aviary and Chimelong Hotel.
    Chimelong Paradise, opened in 2006, is a world-class amusement park which features amusement rides, stunt shows, parades and performances. It is the largest amusement park in China with 70 rides, most of which have been imported from Europe.
    Chimelong International Circus is the first one in the world to use a live-action circus stage. More than 300 award-winning performers from over 20 countries in Asia, Europe, America and Africa, along with 500 animals of 40 different species stage their performances here.
    Chimelong Safari Park, known as the best safari park in China, is home to over 20,000 rare animals of over 500 different species. It is the first park in China to introduce a self-drive tour.
    Add: Guangzhou Chimelong Tourist Resort, Huanle Avenue, Yingbin Road, Panyu District, Guangzhou
    Metro: Take Metro Line 3 and get off at Hanxi Changlong, go out at Exit E, then take the free shuttle bus to get to your destination (3-5 minutes)
    Overseas Chinese Town East (OCT East), Shenzhen
    In the hustle and bustle of the growing hub Shenzhen, OCT East combines a cosmopolitan ambience with natural beauty, standing out as a perfect place for an escape. As the second attraction in Guangdong to receive the honor of the national 5A scenic area, it covers an area of 9 square kilometers. If you plan to go, it is recommended that you spend two days there because this national eco-tourism demonstration area has a wonderful array of facilities, scenery and culture: Ecoventure Valley, Tea Stream Resort Valley, Wind Valley Sports Park, Huaxing Temple, to name just a few.
    Add: OCT East, Dameisha, Yantian District, Shenzhen
    Buses: 103, 387, J1, J1 Express, M207, M362, Dameisha holiday special line 2, Sightseeing Bus, Airport Bus Route 6 (OCT East Ecoventure Valley stop)
    Mission Hills Shenzhen
    Mission Hills Shenzhen may be unfamiliar to most locals. However, as China's highest rated golf and leisure resort, it has hosted over 100 major international tournaments and facilitated exchanges in sports, culture, business and trade.
    Add: 1 Mission Hills Road, Longhua New Area, Shenzhen
    Bus: Take bus 312 from Futian Coach Station to get there directly
    (To facilitate the commute between Hong Kong, Shenzhen and other clubs, Mission Hills Shenzhen also offers guests luxurious shuttle bus services.)
    (Jane Chen)