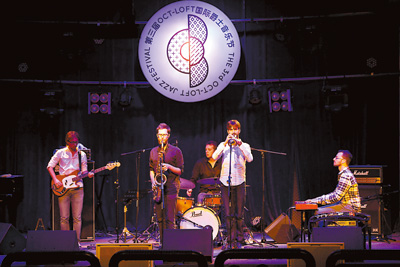 Cao Zhen
    caozhen0806@126.com
    OXYD, a five-member jazz band from Paris, France, will perform a gig at B10 Live in Shenzhen to promote their latest album "Long Now" on Sept. 14, as part of their "Plugged in Nirvana" tour.
    OXYD is conducted by pianist and composer Alexandre Herer, playing a Fender Rhodes, electronics and several effects. Trumpet player Olivier Laisney and tenor sax player Julien Pontvianne make up a great front line, as well in leading melody and improvising. Oliver Degabriele on electric bass and Thibault Perriard on drums support OXYD with a high-quality rhythm section.
    OXYD plays their own compositions inspired by European and American jazz music, with influences of rock, pop and contemporary music. Since its inception in 2006, OXYD has released one EP and three albums and played over 150 concerts in many festivals and venues in Europe, the United States and China.
    In 2013, they brought their third album "Plasticity" to China for their first tour in this country, including a gig at B10 Live as part of the Third OCT-LOFT Jazz Festival.
    This year, they released the new instrumental album "Long Now" (already available on iTunes China), along with which they've started a quite special journey called "Plugged in Nirvana," bringing us along to revisit the legendary rock band Nirvana in progressive jazz. In addition to Shenzhen, they will also tour in Tianjin, Beijing, Wuhan, Changsha, Chongqing, Nanchang and Guangzhou from Sept. 8 to 15.
    Before OXYD is set to perform here Sept. 14, Shenzhen Daily had an interview with the band's pianist Alexandre Herer.
    Why did you choose OXYD as your band name?
    Herer: The band was created 10 years ago, back in music school. We felt the name OXYD was reminiscent of metal, and as we wanted to illustrate rock music and distorted sounds it seemed an appropriate name.
    OXYD's music is sometimes categorized as "avant-garde jazz" or "jazz fused with progressive-rock." How do you define OXYD's music style?
    Herer: The band's music comes from jazz as lots of moments are improvised. The sound is more influenced by jazz (with trumpet and saxophone) but also with the way of drumming. For me it's jazz, but inspired by music we listened to during our studies and youth.
    Would you please tell us about the tour "Plugged in Nirvana?"
    Herer: The tour's name comes from Nirvana's album "Nirvana Unplugged." It's a throwback to the album and evokes the fact that we picked some elements of Nirvana's music and mood to write the music. We had the chance to be invited to China last time, so we tried to organize another tour for this album and Shenzhen.
    Have you been influenced by other artists or bands in addition to Nirvana?
    Herer: Yes. Jim Black, Sonic Youth, Sigur Ros, The Pixies, Steve Coleman ...
    What's the theme of your new album "Long Now?"
    Herer: "Long Now" comes from a Nirvana tune called "Big Long Now." We don't play the whole song, so we cut the title. Moreover, I like the way that it evokes time. The pieces in "Long Now" are from Nirvana and other bands (Sonic Youth or Meat Puppets) and from all the members of OXYD. For this album, every member chose two or three tunes and worked on it. We also worked together during residencies.
    How is "Long Now" different from your previous albums?
    Herer: It is a project based on the music of other artists (Nirvana, Sonic Youth or others). We took some elements of the music, we wrote some elements, we mixed them ... The other albums were original music. "Long Now" consists of a rewriting of pieces inspired by the energy and the sound of the group Nirvana. OXYD has kept the musical elements which pleased the members and then built up on that basis. The elements which are conserved vary in regard to the songs; it could be a bass line or a 10-note section... You have to come to the concert to discover!
    What's the most unforgettable experience you've had while performing in China?
    Herer: I remember when we played our first concert in China (so our first evening in China). We were very tired because of the jet lag but after the concert, some Chinese people brought us into a very tiny club and we had a lot of beers and we played a jam session. And, after that, they brought us to the Yangtze River in Chongqing and we just walked along it with our instruments strapped to our backs.