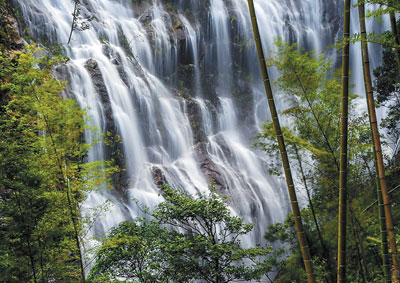 NATIONAL Day is approaching, on its way step by step,
    The golden time of autumn is tiptoeing from afar inch by inch.
    Dear, please take your eyes off the computer screen,
    and go out for the season's breeze and mountain's green.
    No more brooding by the desk of labor,
    let's go find somewhere near Shenzhen to free the body and soul.Pingyuan County, Meizhou
    Situated in the northeast of Guangdong Province, Pingyuan is a mountainous town surrounded by picturesque landscapes, with a small serene river meandering through it. There are many scenic spots in Pingyuan County, among which the Wuzhishi scenic area is the most well-known.
    Glass path
    When we were young, we would often dream of walking in the clouds just like Peter Pan. Right here in the Wuzhishi scenic area, we can experience the breath-taking glass path just like Pan.
    It's like a walk in the clouds with gusts of wind bringing the valley mist up in the air. The ethereal and fleeting mist dances around you. In the moment, this glass path becomes a fairyland path with a background of misty mountain and green vegetation.
    Local delicacies
    Pingyuan County, Meizhou is known for its large Hakka population, where many traditional delicacies are well preserved and still prevailing, such as ciba (glutinous rice cake), kourou (steamed pork), niang doufu (brewed tofu) and yanmian (cured noodles).
    In this place of beautiful scenery and delicious food, foodies can feel a sense of satisfaction with their full stomachs and nature-lovers can enjoy a feast for their eyes.
    Add: Wuzhishi Scenic Area, Chagan Town, Pingyuan County, Meizhou
    Tickets: 90 yuan for each person
    Transportation: Take National Road 206 from Meizhou to Pingyuan
    Qianlonggou Waterfall,
    Guangzhou
    Situated in Conghua District, Guangzhou, Qianlonggou Waterfall is often compared to Huangguoshu Waterfall in Guizhou Province which is the most famous of its kind in China.
    It's about 80 meters high and 280 meters wide. People can hear it roaring and see it cascading from the mountain top as they approach it.
    Bamboo rafting
    After seeing the magnificent waterfall, visitors can go bamboo rafting on the rippled river where bamboo thickets stretch along the banks.
    Thanks to its geologically blessed environment, the quality of the air and water here is excellent.
    Add: Liangkou Town, Conghua District, Guangzhou
    Open: 1:30-3:30 p.m. Monday to Friday; 10:30 a.m.-5 p.m. during weekend
    Tickets: 60 yuan for each person, free for children below 1.2m. (Price may fluctuate)
    Transportation: Take a bus from Shenzhen to Conghua. The trip is about one to two hours.
    (Xie Tao)