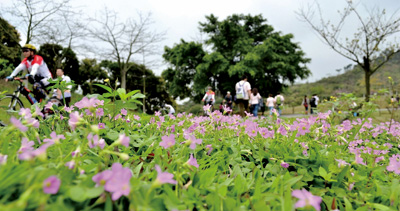 THE weather in Guangdong is finally cooling down and the typical short autumn of the province seems to be here. So what is the best getaway option for this rare brief season?
    An autumn outing when you can breathe in refreshing fresh air and particularly, cycle along the picturesque greenways, might sound like a good option. But do you know the greenways in Guangdong?Greenway No. 3
    Route: Huizhou — Dongguan — Guangzhou — Zhongshan — Jiangmen
    The 370 km Greenway No. 3 traverses horizontally through the Pearl River Delta, connecting the west with the east. This greenway, which boasts not only countryside sections but urban sections, runs by Huizhou West Lake, Dongguan Shuixiang and multiple wetland parks. It is the best representative of Lingnan's water culture.
    Recommendations
    Huizhou West Lake, the starting point of the Huizhou section of Greenway No. 3, is known for its five lakes, six bridges and 14 sightseeing spots. According to historical records, among the 36 west lakes in China, only West Lake in Huizhou can be compared with the West Lake in Hangzhou.
    Covering an area of 0.5 square kilometers, Yuehui Garden in Dongguan is Guangdong's largest classic private garden. Visitors can come here for a dose of culture and a taste of history as the garden inherits the beauty of ancient culture and presents the charm of ancient Lingnan buildings.
    Greenway No. 4
    Route: Guangzhou — Zhuhai
    The main line of Greenway No. 4 is 220 km long and travels through the center of the Pearl River Delta, connecting countryside scenery with urban views. Going south from Furong Tourist Resort, you will bike through Huadu District, Guangzhou and finally reach Zhuhai Yu Hotspring Resort.
    Recommendation
    The 360-meter-high Furongzhang, also named Furong Mountain, is located in the northwestern part of Huadu District inGuangzhou. The color of the stones on the mountain look like the black hibiscus, from which the mountain got its name Furong, which means "hibiscus."
    Greenway No. 5
    Route: Huizhou — Dongguan — Shenzhen
    Greenway No. 5 starts from Qingshuihu in Changning Town at the foot of Luofu Mountain in Huizhou and stops at Shenzhen Yinhu Forest Park. Covering destinations like Yuanzhou Town, Shilong Town, Songshan Lake and Huangjiang Town in Dongguan, Chashan Town in Maoming City and Guangming Subdistrict in Shenzhen, this greenway stretches from mountains to ocean, of which pastoral landscape dominates most parts.
    Recommendations
    Luofu Mountain, hailed as "one of the top 10 mountains in China," covers a sprawling expanse of more than 214 square kilometers with a total of 432 mountains and peaks, 72 stone chambers, 980 waterfalls and springs and many bizarrely shaped stones, cliffs and caves.
    Situated inside the Songshan Lake Science and Technology Industrial Park, Songshan Lake boasts unique natural resources: eight square kilometers of natural water, 42 kilometers of lake shoreline, pristine and densely forested hills surrounding the area. Thanks to its charming scenery, Songshan Lake is also an ideal place for cyclists.
    (Chen Xiaochun)