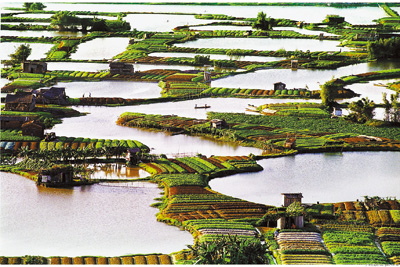 AN autumn outing when you can breathe in refreshing air and cycle along the picturesque greenways, might sound like a good option. Here is the last part of our introduction on greenways in Guangdong.
    Greenway No. 6
    Route: Zhenshan Mountain in Zhaoqing — Lianhua Town in Zhaoqing — Sanshui District in Foshan — Jiujiang Bridge — the coastal greenway in Jiangmen — the Paradise of Birds in Jiangmen — Xinhui Gudou Hotspring Resort in Jiangmen
    Cycling along Greenway No. 6, you will first encounter the grand scenery of the Xijiang River in Zhaoqing City, then the joyful people in Jiujiang in Foshan City, and finally the unique atmosphere of overseas Chinese towns.
    Recommendations:
    Zhenshan Mountain, located in Sihui of Zhaoqing, is a quiet getaway for city dwellers who are tired of the concrete and cement surroundings. Biking around this place, you can refresh yourself while visiting some historic sites at the same time.
    The Paradise of Birds is the top can't be missed place in Jiangmen. It's home to various species of birds, especially wild egrets. Here you can appreciate birds as well as catch a glimpse of a typical Lingnan water village.
    Gulao Water Village in Heshan is a group of unique dwellings surrounded by water. Stone bridges and stone paths are the two main features of this place. The stone bridges connect different fish ponds. (Chen Xiaochun)