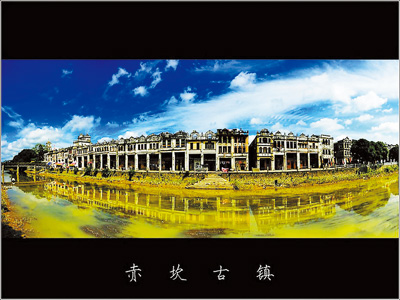 WESTERN-STYLE houses, arcades, rickshaws, dessert shops and Felix Mendelssohn's "Wedding March" playing on the gramophone — all these treasures didn't vanish with the passage of time, instead, they've been either rebuilt or renovated and now are demonstrating the beauty of the old days with a slightly different vibe.
    The good old memories of these treasures can be found in nowhere else but in Guangdong Province.
    Tianhe District, Guangzhou
    Do you want to travel back in time to the Republic of China (1912-1949) and see Shanghai at night?
    Now, you are welcome to visit Fashion Tianhe in Guangzou to take the time machine to go back to the old Shanghai, where all the singing and dancing, dazzling lights and wine, or sing-song girls and gentlemen in the Paramount Hotel have been revived.
    Here you will have the illusion of actually being back in the old days with authentic sections featuring different themes, namely, Shanghai at Night, Fantasyland and Lingnan Flavor.
    You can start your journey with Shanghai at Night where the old Shanghai elements such as neon lights, European-style buildings, double-decker trams, telegraph poles, old-style posters and gramophones can be found everywhere. In this neighborhood, you can take selfies with the waxworks of figures and celebrities from the Republic of China.
    Visitors can also take the double-decker trams to tour around the whole neighborhood for free.
    Apart from the Shanghai at Night section, there is the Lingnan Section with which people living in Guangzhou are most familiar with.
    If you want to further appreciate the charm of Lingnan culture, you can come to Xunma and Qilu streets. There you may encounter at each corner of the two streets rooster olives, paper-cuts, shadow plays and other elements with distinctive Lingnan features.
    Add: Underground level, South Gate of Tianhe Sports Center, 299 Tianhe Road, Tianhe District, Guangzhou
    Transportation: Take a train to Guangzhou. Take Metro Line 3, get off at Tianhe Sports Center Station, and take Exit D3
    Chikan, Jiangmen
    Chikan, located in Kaiping, is an ancient town with a history of more than 350 years. Encircled by rivers and planted with ancient trees, Chikan retains most of its historical charm with old and simple architectural styles and customs unchanged.
    Chikan didn't rise to fame until the movie "The Grandmaster" directed by Wong Kar-wai was screened.
    In the town, business and daily lives are merged. There are some 600 arcades built by the water around the neighborhood. Grain stores, grocery stores, drugstores, furniture shops, hardware stores and watch stores are everywhere.
    Most of the existing streets and buildings open to the public were built by overseas Chinese sponsors at the end of the 19th century and the beginning of the 20th century.
    Location: By the Tanjiang River, western side of Dixi Road, Chikan Town, Kaiping, Jiangmen
    Transportation: Take a bus from Shenzhen to Kaiping, and then take a taxi to Chikan
    Zhongshan Film Studio,
    Zhongshan
    Zhongshan not only greets visitors with its vitality and fashion, but also amazes them with its strong flavor of the Republic of China.
    Visitors can feel it in the Zhongshan Film Studio where Chinese austerity and Western romance meet. The studio features streets, shops and ordinary people's lives. TV shows including "Yangcheng Storm" and "Thunderous Xiguan" were shot at the studio.
    Every day, the Zhongshan Film Studio stages dozens of performances including modern warhorse shows and war reenactments.
    In the Japanese scenic area, there are actors singing and dancing and Kendo performances as well as reality shows depicting Chinese ethnic groups.
    Add: Next to the Museum of the Former Residence of Dr. Sun Yat-sen, Cuiheng Village, Zhongshan City
    Transportation: Take a bus to Zhongshan, and then take a taxi to Cuiheng Village
    (Yang Mei)