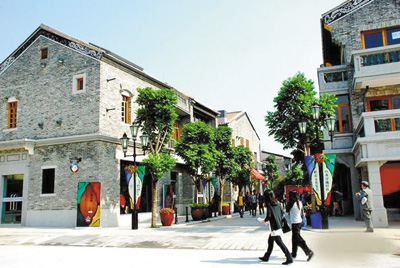 WESTERN-STYLE houses, arcades, rickshaws, dessert shops and Felix Mendelssohn's "Wedding March" playing on the gramophone — all these treasures didn't vanish with the passage of time, instead, they've been either rebuilt or renovated and now are demonstrating the beauty of the old days with a slightly different vibe. The good old memories of these treasures can be found in nowhere else but in Guangdong Province.
    Foshan
    In Foshan, if you want to experience the culture of the Republic of China, Lingnan Xintiandi business center is highly recommended. Inside the area, the Spring Modern Hotel is well-known for its atmosphere.
    When one walks into this hotel, one may feel like they are entering the era of the Republic of China. The decoration style, tables and chairs and even the tableware are full of the old Shanghai style.
    When night falls, one can taste delicious food under soft lights, accompanied by old Shanghai style music. An ambiance certainly fit for a scene from a romantic story.
    Every evening from 7:30 p.m., beautiful ladies wearing cheongsam perform for the audience. The classical music is reminiscent of Yao Xiaodie from the TV drama "I Have a Date With Spring."
    Add: 1/F, Building 68, Fuxian Road, Lingnan Xintiandi business center, Foshan
    Transportation: Take a bus from Shenzhen to Foshan and take a taxi to the business center
    Shantou
    The beauty of the old town of Shantou in Guangdong Province not only lies in its unique architecture, but also hides in its cuisine. Although the old town looks dilapidated, the food there still carries memories of the past.
    It will definitely be a worthwhile trip for you to visit the old town in Shantou. Delicacies as well as unique local customs won't let you down.
    After the second Opium War (1856-1860), Shantou was opened as a trading port. Since then it has become an important coastal port because of its strengths in shipping and trade.
    Deeply influenced by marine culture, a large number of people have moved there to make a living. Over the years, they accumulated a lot of wealth and it was then they built residences and start businesses.
    Western-style buildings dot the old town and many were built in the 1920s and '30s. The architecture often imitated ancient Roman, Gothic and Baroque styles, and creating an overlap of new and old. The Nansheng Departement Store, Hu Wenhu Building and a cluster of old buildings in the neighboring area are a good place to have a taste of the old times.
    Whether it is to appreciate the buildings, to take pictures or to have an afternoon tea, the ancient town will satisfy your needs.
    Add: 155, Waima Road, Jinping District, Shantou
    Transportation: Take a bus from Shenzhen to Shantou and take a taxi to the old town
    (A Ding)