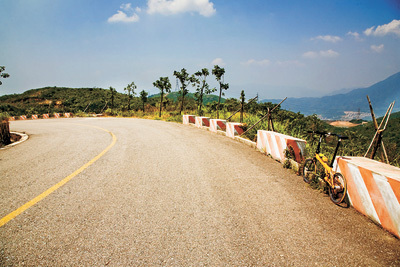 WHILE people in northern China are either braving the cold weather or struggling with the smog, folks in Shenzhen are much luckier with genial sunlight and warm breezes kissing their faces. There's no better time to enjoy the great outdoors, and what's the best way to get around while enjoying the pristine environment? Cycling! So gear up and let the steep climbs and fast descents keep you company.
    Sanzhoutian Road, Dapeng Peninsula
    Claiming to be the climbing route with the most beautiful scenery, Sanzhoutian is located in the northern part of Shenzhen, bordering Pingshan to the north and Dameisha to the south. Climbing this 15-kilometer route on two wheels is not easy with an altitude of 300 meters and multiple switchback trails. But never mind! When you finally make it to the mountain top — Chaxi Valley where breathtaking scenery, fresh air and a sea of flowers await you, it'll be totally worth it.
    To better appreciate the scenery, you can start from Pingshan so you will be greeted with small terraces along the way. When you go downhill, the magnificent sea view and verdant jungles will be right in your face. But entering Chaxi Valley in OCT East will cost an entrance fee of 160 yuan.
    Route: Hengping Road — Bisan Road — Jingguan Road — Chaxi Valley — Sanzhoutian Road — Meiyan Road — Dameisha
    Qinglinjing Forest Park Area
    Longgang District
    Qinglinjing, known as the largest forest park in Shenzhen, boasts a number of hiking routes and long concrete roads for leisure. The park consists of Qinglinjing Reservoir, Huangnikeng Reservoir, Huangzhukeng Reservoir and neighboring mountains. The east side of the park is more favorable for hiking with both steep and gentle slopes, while the west side offers still mountain lakes around which cyclists can hike and ride.
    Compared with other routes, the biggest disadvantage of the park is that some of the routes aren't open to cyclists anymore as the rides are giving way to commercial development.
    Location: Qinglinjing, Longgang District
    Xili Reservior
    Nanshan District
    As a Chinese poem goes, "Any mountain can become famous with the presence of an immortal and any river can become holy with the presence of a dragon." Xili Reservoir makes for pretty laid-back riding. The broad and sluggish rivers, the occasional greetings from little birds flying around and luxuriant plants will surely make your body and mind peaceful and refreshed. After riding the easy 22-kilometer route, you will find you are filled with a sense of accomplishment.
    Location: Xili Reservior, Nanshan District
    (Yang Mei)