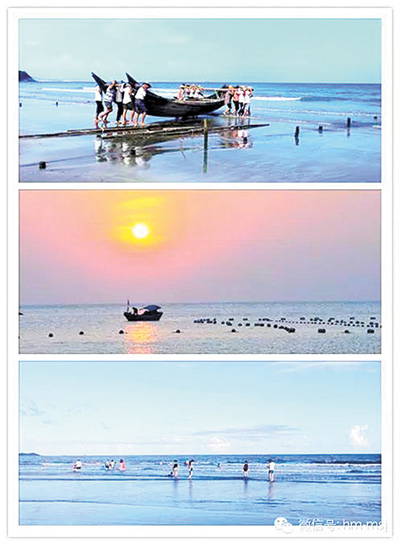 AS the transportation landscape becomes more and more diverse, we have more options when choosing a means to reach a destination. You can fly, hop on the high-speed rail or lounge on a cruise, you name it.
    Different means of transport bring you different experiences during your journey. For those who enjoy roaming about, the most beautiful scenery is often seen on the road just outside your window as you zoom by.
    If you are still fretting about where to spend your precious weekend, why not hop on a high-speed train in Guangdong and enjoy a journey with beautiful scenery.
    Wuhan-Shenzhen Railway
    Destination 3: Wuhan
    Being the transport junction that connects east with west and north with south, the city is most people's option when they choose a place to transfer.
    Where to have fun
    Wuhan University and Hubei Provincial Museum are always on the list of popular tourist attractions. For Wuhan University, spring is a special season. At this time of the year, Wuhan University is invariably inundated with tourists coming from far corners of the country for the annual Cherry Blossom Festival.
    As a model for campus architecture in China, the university is also home to many buildings constructed during the Republic of China period (1912-1949).
    East Lake outside Wuhan University is probably the most romantic place in Wuhan, for it has been witness to countless romances over the years.
    Not far from the west shore of Wuhan's East Lake lies the Hubei Provincial Museum, which is home to a collection of over 200,000 objects, including the Sword of Goujian, an ancient set of bronze bells (bianzhong) and extensive artifacts from the Tomb of Marquis Yi of Zeng and the tombs at Baoshan.
    Apart from these, tourist attractions like the Yellow Crane Tower and Shennongjia Nature Reserve are also recommended.
    Delicacies
    Wuhan spicy duck neck and crawfish have turned into two must-eat foods for people traveling to this city.
    Wuhan Jingwu Road is the right place for buying duck neck, while Hubu Alley, full of snack stalls and appetizing local food, such as hot dry noodles, fried rice, mianwo (Chinese doughnut), fried glutinous rice cakes and etc., is a paradise for food lovers.
    If you want to have a taste of the crawfish here, there are three options for you: Wangongyuan Road, Shipailing and Qinyuan Road.
    If you want to go shopping, don't miss the 1,550-meter-long Jianghan Road which enjoys a history of over 100 years and is one of the five most famous commercial streets in China.
    Tips: It costs about 544 yuan and takes around five hours to travel from Shenzhen to Wuhan by high-speed train.
    Xiamen-Shenzhen Railway
    Xiamen-Shenzhen Railway, a railway that connects Guangdong and Fujian provinces, travels through three special economic zone cities, namely, Shenzhen, Shantou and Xiamen.
    Destination 4: Houmen
    Houmen, a gourmet palace along the coast of Guangdong, faces the South China Sea to the south, neighbors Houmen Bay to the east and forms the Shenzhen-Shanwei Special Cooperation Zone with Xiaomo Town, Ebu Town and Chishi Town in the west. This area is also representative of Chaoshan culture and has many well-known historic and cultural locations.
    Where to have fun
    Resembling a crescent in shape, Houmen is a natural harbor. With a beautiful beach, soft waves and cozy winds, it has turned into a paradise for both migratory birds and people.
    With the rolling hills on one side and the South China Sea to the south, here in Xiaomo Silver Bay, you can appreciate the beauty of mountains meeting water and the golden beach in the golden rays of the evening sunlight.
    Delicacies
    Seafood lovers will definitely enjoy the trip here for this place has an abundant supply of various types of seafood, some of which you might have never seen or heard of before.
    Tips: It takes about one hour and five minutes and 36 yuan to travel from Shenzhen North Railway Station to Houmen Station. Or you can go to Shanwei if there are no tickets to Houmen. The trip takes about one hour and 10 minutes and 45.5 yuan.
    (Chen Xiaochun)