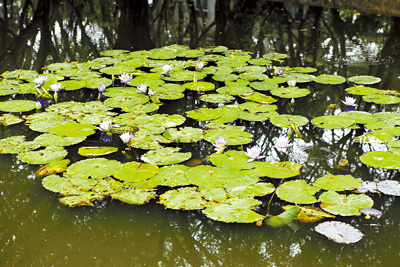 Yang Mei
    595383341@qq.com
    AS a symbol of auspiciousness and prosperity, flowers have become a perpetual theme as people welcome or celebrate wonderful days including wedding days, Mother's Day and of course the Chinese New Year — the Spring Festival.
    Since the Chinese calendar combines both the lunar and solar calendars, the second day of the first lunar month of the New Year will fall on Jan. 28 this year.
    Thanks to the warmer weather, many flowers in Shenzhen are blooming, so people here are pretty lucky as they can appreciate the beautiful blooms earlier than those in other provinces.
    There are numerous places in the city where people can appreciate flowers around the Spring Festival, the only problem is where to begin? Here are three recommended spots.
    Water lilies, Honghu Park
    Have you ever dreamed that one day the oil painting series "Water Lilies" by Claude Monet would come to life? If you have, your dream can be realized at Honghu Park for it will hold the first Shenzhen Water Lily Exhibition from Jan. 25 to Feb. 22, 2017.
    A total of 60 rare breeds of tropical water lilies will be on show during the period, including pink crab claw lilies, Egyptian white water lilies, hairy water lilies and pygmy water lilies.
    If you are tired of seeing red blossoms, come take a trip to Honghu Park to appreciate these sleeping beauties.
    Location: 2023 Wenjin Road North, Luohu District(罗湖区文锦北路2023号)
    Metro: Line 7, Honghu Station, Exit D (洪湖站D出口)
    Opening hours: 6 a.m-11 p.m.
    Ticket: Free entrance
    Peach blossoms, Lianhua Hill Park
    On the north side of Lianhua Hill Park sits a forest of peach trees. The number of the newly planted peach trees in 2015 was 2.5 mu (0.17 hectare), bringing the current total number to around 10 mu. This spot now offers tourists nearly 1,000 peach trees. Come Spring Festival, tourists will be greeted with a vast expanse of red clouds made by peach blossoms.
    Location: 6030 Hongli Road, Futian District (福田区红荔路6030号)
    Metro: Line 2, Lihua West Station, Exit A (莲花西站A出口)
    Opening hours: 6 a.m-10:30 p.m.
    Ticket: Free entrance
    Plum blossoms, Meiyuan Garden
    Plum blossoms, as a herald of spring and a symbol of auspiciousness, have long been loved by Chinese people. In Shenzhen, there is no better place to appreciate plum blossoms than Meiyuan Garden since it boasts the largest variety of them.
    On the southeast side of Meiyuan Garden, there is a forest of plum blossoms covering an area of 20,000 square meters. The garden has a total of 4,000 plum trees which tourists can enjoy from January to March, so the days around the festival will be a perfect time for tourists to appreciate the blossoming flowers.
    There is no public parking area in the park and the parking areas outside are limited, so public transportation is suggested.
    Location: Next to Hongling Middle School, Antuoshan Road 9, Futian District (福田区安托山路9号)
    Buses: Line 41, 58, 67, 201, 240, 334, M203, M358, M364 (West Beihuan Xiangmi Overpass Stop and you'll see Meiyuan Garden is right on the north side of the bus stop)
    Opening hours: Access all day
    Ticket: Free entrance