LOCATED in a picturesque basin 20 kilometers to the northwest of Danxia Mountain, a natural World Heritage Site, the 650-year-old Shitang Village in Shaoguan is surrounded by mountains on three sides with a crystal-clear brook flowing through it. It is said that there are many fishponds in this area and in every fishpond there is stalagmite, hence the name of the village — Shitang (stone pond).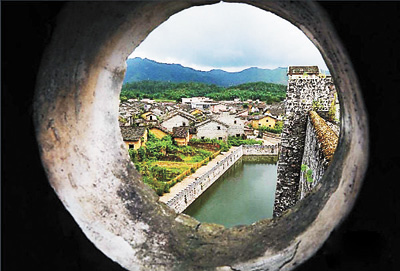 During the reign of Emperor Xianfeng (1850-1816) in the Qing Dynasty (1644-1911), Shitang Village had already developed into a well-known village with 1,000 households. Now the time-honored village is the largest natural village in Renhua County, Shaoguan City as well as one of the most intact ancient villages with ancient houses, ancient alleys, ancient customs and cultures.
    In 2016, the village was ranked as a 3A national tourist attraction.
    Time seems to slow down as you walk into the tranquil village. The once bustling Sanjiao Street is now old but tranquil under the baptism of time. As you walk along the street, you will bump into an old house or other historical sites from time to time.
    The ancient alleys are one of the highlights of Shitang Village. It is exactly these narrow cobblestone-paved alleys that contributed to the once prosperous village of several centuries.
    The ancient wells are another treasure of this place. Currently, there are 56 wells of different shapes and different materials. Some of them were made of limestone, some of black brick, some of granite and others out of cobblestones.
    Shuangfengzhai Village, one of the biggest fortresses in Guangdong, is the most representative architecture in Shitang Village. Its construction started in 1899 and finished in 1910, lasting for 12 years.
    Just a stone's throw away from Shuangfengzhai Village stands Shuikou Leaning Tower. It takes you only four or five minutes to reach by car. Standing at 18.6 meters, the seven-story tower has a planar hexagonal structure and was built with hollow bricks.
    Over the years, the water in Tongyang Brook keeps washing against the foot of the tower, slowly eroding the base, hence the name the leaning tower.
    Yuejie folk song, a provincial intangible cultural heritage, is a unique folk tradition in Shitang Village. In the past, women in this village set up a Yuejie song program for the Mid-Autumn Festival and they started singing Yuejie songs from the first day of the seventh or eighth Chinese lunar month until the night of the Mid-Autumn Festival which usually lasted for one month or one and a half months.
    Thanks to its quality underground water, native yeasts and the traditional brewing techniques, Shitang Village enjoys over 300 years of brewing history. The rice wine here is known for its smooth and mellow taste. In 2012, the Shitang rice wine brewing techniques also ranked as a provincial intangible cultural heritage.
    Apart from rice wine, there are also many other local delicacies which will definitely make your mouth water: the mild-spicy braised pork, the crispy fried fish and different types of fried dim sum, just to name a few.
    Transportation: Take a high-speed train to Shaoguan and then take a bus from the railway station to Renhua. A bus to Shitang Village leaves Renhua every hour from 6:10 a.m.-5:15 p.m.
    (Chen Xiaochun)