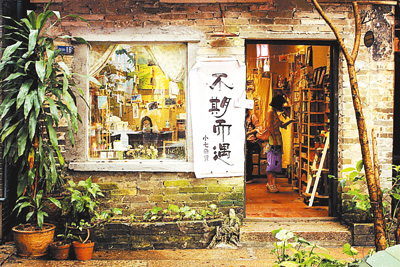 TRAVEL means different things to different people and it can be manifested, in one way, through the type of accommodation that we choose.
    Homestay hotels have turned into one type of accommodation on the uptrend. Villas with gardens, independent lofts and wooden cottages are all nice choices for encountering genuine and interesting people while bringing home an unforgettable memory. In the following, we have selected four special homestay hotels in Guangzhou for your reference.
    Hongqiang Luwa
    红墙绿瓦
    The owner of this homestay hotel is an architect who lives abroad most of the time. During his childhood, he lived in the Dongshankou area of Guangzhou and the red-brick wall, decorative window security bar, colored traditional-style windows and pretty tiles are always lingering in his memory.
    Dongshan District, now part of Yuexiu District, was a former district in Guangzhou. Villas in Dongshan District were built by overseas Chinese and military-political figures in the early Republic of China era (1912-1949), a gathering place for high officials and elites at that time.
    If you want to experience old Guangzhou, this area is a great option for you.
    Price: Around 230 yuan per night for a room to accommodate one to two people.
    Yueting Homestay 阅廷
    This homestay hotel is located near the well-known Jiansheliu Road, the most romantic street in the city where you can find villas, walls and courtyards built in the 1950s.
    Here you can cook food, sit in the hanging seat in the courtyard meditating, play basketball or throw the bean bag. Though you may not be able to enjoy five-star-hotel service, you will definitely feel grateful for the culture, tourist attractions and delicacies shared by the nice owner and other guests.
    Price: Around 210 yuan per night, enough to accommodate two people.
    Wanfeng 晚风
    A homestay hotel with a river view can help relieve your tiredness when you sit on the edge of the bed appreciating the charming night view of the city. This place is filled with lovely gadgets and delicate items, showing the love the owner has for life.
    Price: Around 333 yuan per night, enough to accommodate two people.
    One & One 之间
    One & One is a small hostel in Xiaozhou with a refreshing style.
    Centuries-old village Xiaozhou lies on the southern outskirts of Guangzhou, near University Town. It features classical Cantonese community landscapes by water, including canals, well-kept ancient buildings, bridges and local folkways.
    Walking into Xiaozhou Village is like walking into a museum of folk art. Here old banyan trees can be seen everywhere. Why not escape from the bustling city life and spend one or two nights in this serene village enjoying the tranquility.
    Price: Around 300 yuan per night, enough to accommodate two people.
    (Chen Xiaochun)