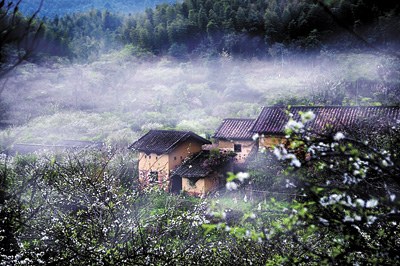 IF you find that modern cities always look similar to each other with all of their shopping malls, skyscrapers and plazas, and you are beginning to feel a bit desperate to find places with real local culture and a bit of antique flavor, then this is the list for you.
    Today we will introduce a few more discreet places in Guangdong that still reserve old architecture and other antique allures. Places that given the chance will help you to travel back in time and bask in a carefree bucolic setting.
    Shawan Ancient Town
    in Panyu, Guangzhou
    Situated in the center of Panyu District in the south of Guangzhou, Shawan Ancient Town is an 800-year-old Lingnan ancient town first built in the Southern Song Dynasty (1127-1279).
    The layout of the ancient town is well-preserved with stone steps, stone alleys and other architecture from the Ming Dynasty (1368-1644), Qing Dynasty (1644-1911) and the period of the Republic of China (1912-1949).
    The ancient town is home to over 100 ancestral halls headed by Liugeng Hall, one of the oldest and most quintessential examples of Lingnan architecture in the Guangzhou area. The ancestral halls here have preserved a large number of mosaic statues, wood and stone carvings, clay sculptures and murals.
    With its narrow cobblestone streets that meander through shrines, ancestral halls and Taoist temples, Shawan is a cultural escape easily accessible from downtown Guangzhou.
    Add: Shawan Ancient Town in Panyu District, Guangzhou 广州市番禺区沙湾镇
    Transportation: Take a high-speed rail train from Shenzhen North Railway Station or Futian Railway Station to Guangzhou South Railway Station. Then take Metro Line 7 to Hanxi Changlong Station, transfer to Metro Line 3 and get off at Shiqiao Station. Then take a taxi to reach the destination.
    Xitou Village
    in Conghua, Guangzhou
    Here, you may not encounter the same grandeur as demonstrated by many of the more famous mountains and rivers across China, but the rustic charm of an age-old village with run-down folk houses certainly makes up for the difference.
    Located in the eastern part of Liangkou Town of Conghua District in Guangzhou, Xitou Village is known as one of the most beautiful villages in Guangdong Province. Walking down the main street of the village, which is paved with large flagstones, you will find old houses lining both sides of the street.
    The buildings double as stores, outside of which you can see local products for sale. The village abundantly produces plums, tomatoes and mandarin oranges.
    Add: Xitou Village, Conghua District, Guangzhou 广州市从化区溪头村
    Transportation: Drive from Shenzhen to the village via Guangzhou-Shenzhen Expressway, South China Expressway, Beijing-Zhuhai Expressway, Jiebei Expressway, G105 and X938.
    Daling Village
    in Panyu, Guangzhou
    Situated in Shilou Town of Panyu District, Guangzhou, the 800-year-old Daling village was once called home by many excellent students who obtained top scores on the highest imperial examinations in ancient China.
    After 800 years of development, the village has given birth to splendid culture, unique historical resources as well as traditional Lingnan architecture such as significant ancestral halls and bridges.
    The village was the first National Historical and Cultural Village in Guangzhou. Not commercialized yet, it is definitely worth your exploration.
    Add: Daling Village, Shilou Town, Panyu District, Guangzhou广州市番禺区石楼镇大岭村
    Transportation: Take a high-speed rail train from Shenzhen North Railway Station or Futian Railway Station to Guangzhou South Railway Station. Then take Metro Line 7 to Daxuecheng Nan Station, then transfer to Metro Line 4 and get off at Shiqi Station. Then take a taxi to get to the destination. (Chen Xiaochun)