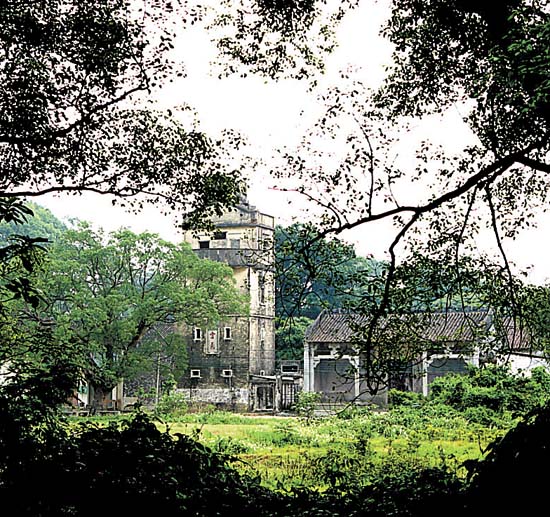 IF you find that modern cities always look similar to each other with all of their shopping malls, skyscrapers and plazas, and you are beginning to feel a bit desperate to find places with real local culture and a bit of antique flavor, then this is the list for you.
    Today we will introduce a few more discreet places in Guangdong that still reserve old architecture and other antique allures. Places that given the chance will help you to travel back in time and bask in a carefree bucolic setting. Huangpu Ancient Port
    in Guangzhou
    Huangpu Ancient Port once witnessed the prosperity of the Maritime Silk Road and it has played an important role in overseas trade since the Song Dynasty (960-1279). As early as the Southern Song Dynasty (1127-1279), the port has been a gathering place for ships coming from all across the south.
    The views here are delicate and exquisite. The surroundings, with flowers and grass growing in front of and at the back of the buildings along with the cane chairs in the yard, will make you feel laid back and at ease.
    Behind Huangpu Ancient Port lies Huangpu Village, most buildings of which were built in the Qing Dynasty (1644-1911), and have been well maintained in their original forms.
    Black bricks, narrow alleys, old banyan trees, a lotus pond, flush-gable-roof buildings and stone lions, all these features of ancient Lingnan-style folk houses will give you an illusion of traveling back in time.
    Add: Shiji Road, Haizhu District, Guangzhou 广州市海珠区石基路
    Transportation: Take a high-speed rail train from Shenzhen North Railway Station or Futian Railway Station to Guangzhou South Railway Station. Then take Metro Line 7 to Daxue Nan Station, then transfer to Line 4 and get off at Wanshengwei Station and then walk to the destination
    Baihou Ancient Town
    in Meizhou
    Located in Dapu County in Meizhou, Baihou Acient Town, nicknamed Hakka Lijiang, was the first town in Meizhou to be awarded with famous historical and cultural status.
    Baihou Ancient Town is the town in Meizhou with the most ancient folk houses. Currently, it's home to over 120 well-preserved folk houses built in the Ming (1368-1644) and Qing dynasties.
    Among them, you can find not only government officials' and wealthy businessmen's mansions with many courtyards and high walls, but also unique ancestral halls of different sizes; you will also encounter traditional Hakka-style folk houses and buildings with a combination of Western and Eastern elements.
    Add: Baihou Ancient Town, Dapu County, Meizhou City 梅州市大埔县百侯镇百侯名镇旅游区
    Transportation: Take a train from Shenzhen Railway Station to Meizhou, then take a taxi to reach the destination
    Huitong Village in Zhuhai
    Situated in the hills to the north of Fenghuang Mountain, with an atmosphere of primitive simplicity, Huitong Village enjoys a time-honored history of 170 years.
    Relics here include an ancient water gate from the late Qing Dynasty, watchtowers, ancestral halls, well-patterned dwellings and a Qixia Nunnery. The nunnery is located in the west of the village, and was built by Mok Yongyu for his wife Zheng Miaoxia. Mok Yongyu was the grandson of Mok Sze-Yeung, the first comprador for Butterfield and Swire.
    The prosperity that once touched this place has faded into history. But the old trees, ancient houses and streets still stand, ready to tell us their story.
    Add: Jinding, Tangjiawan Town, Zhuhai 珠海市唐家湾镇金鼎
    Transportation: Take a bus at Futian Bus Station or take a ferry from Shekou Port to Zhuhai, and then take a taxi to reach the destination
    (Chen Xiaochun)