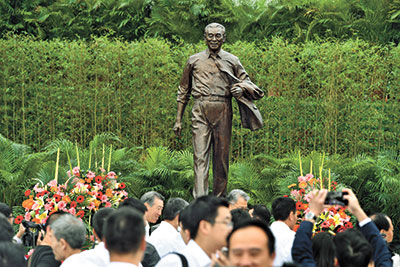 A STATUE of Yuan Geng, the pioneer of China's reform and opening up who founded the Shekou Industrial Zone in Shenzhen, was unveiled at Sea World in Nanshan District yesterday, coinciding with the 100th birthday of the official-cum-entrepreneur, who died last year.
    Hundreds of people, including officials from the city government and China Merchants Group, of which Yuan was at the helm, attended the ceremony in tribute to the late maverick reformer to see his lifelike statue with sleeves rolled up, striding against the wind.
    "Yuan was an outstanding leader of China Merchants in its 145-year history," Li Jianhong, chairman of China Merchants Group, said in a speech. "We erect the statue to perpetuate the memory of him and remind people of his noble qualities and dedicated spirit that we should carry on while pushing forward the reform and opening up."
    Li Huanan, deputy Party chief of Shenzhen, also attended the ceremony.
    Lu Zengkang, vice head of Guangzhou Sculpture Academy who created the statue, said it took him half a year to finish the work, which is 2.6 meters tall and weighs 1 ton.
    "The statue was built on the image of Yuan in his prime in the 1980s, who was both a staunch reformer and an affable elder, to convey the spirit of his time — go straight and never look back," Lu said.
    Yuan was born in Guangdong Province's Bao'an County, predecessor to Shenzhen, in April 1917 and joined the Communist Party of China at the age of 21.
    In 1939, he joined the Dong-jiang Column of the Guangdong People's Anti-Japanese Aggression Guerrilla Force, which was led by the CPC in southern China.
    He was appointed head of the Dongjiang Column's liaison division in August 1944 and provided large amounts of valuable information to the United States Pacific Fleet and the U.S. 14th Army Air Force.
    In September 1945, immediately after Japan's surrender at the end of World War II, Yuan was sent to Hong Kong to set up a liaison office, which became the Xinhua News Agency Hong Kong branch.
    In June 1978, he was assigned to help set up a bureau for merchants services in Hong Kong and was in charge of the bureau's affairs from October that same year.
    The Shekou Industrial Zone he helped set up in Shenzhen in 1979 was a flagship program of China's reform and opening up — introducing new ways of distributing wages and housing based on performance and market values.
    Yuan also coined a slogan, "Time is money, efficiency is life," in 1982, which ushered in a renewed appreciation among Shenzhen residents for a market economy. A giant billboard printed with the catchphrase was erected at an intersection in Shekou in 1983.
    Shekou created 24 firsts of China from 1979 to 1984.
    Yuan also played a major role in establishing China Merchants Bank, the country's first joint-stock commercial bank, in 1987 and Ping An Insurance Company of China, the first commercial insurance company founded by merchants in May 1988.
    He had been living in Shekou after retirement in 1992.
    (Li Jing)