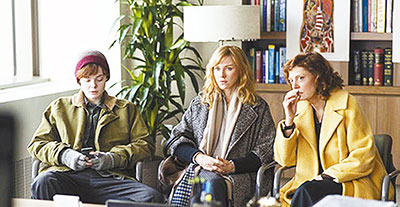 Gaby Dellal's film features Elle Fanning as a transgender* teenager hoping to begin hormone treatment* and start transitioning into a boy.
The film starts in a doctor's office, as teenage Ray (Fanning) — originally Ramona — learns what to expect once he starts testosterone* treatment. Ray's matriarchal support system is unusually well positioned to accept his changing identity, even if the women each show an occasional sign of discomfort: Mother Maggie (Naomi Watts) has raised him independently for years, and grandmother Dolly (Susan Sarandon) is an out* lesbian* in a long-term relationship with Frances (Linda Emond).
Ray is eager to start his hormone treatment in time to switch schools before the start of the next term, so as to reintroduce himself as a boy.
Maggie, however, is dragging her feet on signing the parental consent* form, which suddenly presents a major complication: The form requires both parents' signatures, and Ray's father, Craig, hasn't been around for years.
Maggie must confront* her own highly complicated romantic past by going to the suburbs, where Craig (Tate Donovan) lives with his new wife (Maria Dizzia) and three young children.
Portraying Ray as awkward yet far beyond any sort of confusion over his identity, Fanning's performance allows him to be both righteously troubled and also just a bit of a standard-issue stubborn* teenager, stomping* down stairwells, defying* his elders and getting awkward around girls.
Sarandon gives a half-sarcastic glint to her line readings, even the serious ones, and her rapport* with Emond is positively funny, yet smaller doses of her antics might have better served the story. Watts at times seems to struggle with a character that's being pulled in two different narrative directions, but she finds enough small moments and idiosyncrasies* to flesh her out.
This is the rare trans-themed comedy that most viewers could safely take their grandparents to, and there is something to be said for that.
(SD-Agencies)