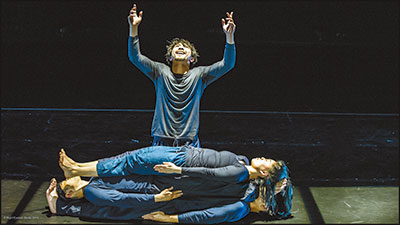 Cao Zhen
caozhen0806@126.com
PHYSICAL theater drama "L'Orphelin 2.0," adapted from "The Orphan of Zhao," one of China's oldest plays and the first to be translated into a European language, will be staged at the Nanshan Cultural and Sports Center on May 25 by Hong Kong drama troupe Theatre de la Feuille.
In "The Orphan of Zhao," Zhao Shuo, the highest ranked general in the Dukedom of Jin is framed by Tu'an Gu, his political enemy. Tu'an kills Zhao and all his 300 family members except Zhao Shuo's son Zhao Wu, who is hidden and secretly brought up by Zhao Shuo's loyal retainer Cheng Ying. After 20 years the Duke decides to rehabilitate Zhao Wu's family and allows Zhao Wu to kill Tu'an to revenge his father's death.
As a historical story, several permutations of it have appeared over the years. It first appeared in "Zuo Zhuan," an ancient commentary on the Chinese chronicle "The Spring and Autumn Annals" covering the period from 722-468 B.C.
It was then described by the Han Dynasty historian Sima Qian (born 145 B.C., deceased date unknown) in his "Records of the Grand Historian." It was later adapted into a play by Ji Junxiang in the Yuan Dynasty (1279-1368) and was regarded as one of the four ancient Chinese tragedies.
The Jesuit priest Joseph Henri Marie de Premare translated the play into French in 1731, which he titled "L'Orphelin de la Maison de Tchao." The story caught the imagination of European minds at the time and the translation was the basis for various adaptations over the next few decades. In 1753, Voltaire wrote his "L'Orphelin de la Chine," which debuted in Paris in 1755.
Different from the earlier "L'Orphelin" director Ata Wong Chun-tat created in 2009, "L'Orphelin 2.0" combines several versions of the story since Wong believes that "there's no truth at all."
Without stage settings nor historical costumes, the show retells the tragic legend in sinuous, metaphorical body movements.
"Less is more. Audience members will only notice the physical performances. The actors can be tables, trees or a baby," said Wong.
"The physical and the textual are two aspects of stage art, two ways of communication that actors are trying to achieve with their audience. Some use words and gestures to describe, and bring a story to life, while others use their bodies to do it, and the effect is different. Physical theater is not the equivalent of pantomime. It refers to a process of training and sometimes contains dialogue. It is about bodily expressions existing in whatever style and genre of performing arts," he added.
Also a choreographer, actor and physical theater instructor, Wong studied dance at the Hong Kong Academy for Performing Arts and physical theater at L'Ecole Internationale de Theatre Jacques Lecoq in France. He founded his Theatre de la Feuille in 2010 and has integrated physical training from both the East and the West to train actors.
"Lecoq's methods focus on the relation between physical training and dramas. I believe dancing is linear, while Chinese taichi gestures, for example, are round. So if we train and combine both, we can create diverse forms," said Wong.
For Wong, the creation of art is not only producing a play or a character but also exploring something unknown. "Physical theater summons a collective energy that can open the minds of both the audience and performers. It leaves room for audience members to interpret what they have seen and experienced, and if there is one thing physical theater demonstrates, it is that the audience can question and decide what it is, when there are no words to tell them what to think."
In 2015, Wong was invited by movie director Johnnie To to direct choreography for To's crime thriller "Three." Wong created an eight-minute multi-character shootout presented as an unbroken scene, accomplished by having the actors freeze in place and mimic the effects of slow motion.
Wong is also drawn by masked performances and has studied the making and uses of leather masks under Italian mask-making master Stefano Perocco di Meduna at L'academie Albatros. His latest non-verbal mask production "Papa" continues to use the body as a form of narration. "Masked performances, which solely rely on body language, reflect the extremes of performance and the extremes of the human condition," he said.
Time: 8 p.m., May 25
Tickets: 50-399 yuan
Booking: 400-185-8666
Venue: Nanshan Cultural and Sports Center, 2106 Nanshan Boulevard, Nanshan District (南山区南山大道2106号南山文体中心)
Metro: Line 1, Taoyuan Station (桃园站), Exit B