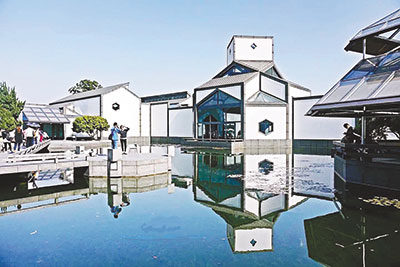 HEAVEN on Earth, Venice of the Orient, China's Eden, land of fish and rice. Suzhou, indeed, lives up to its multiple monikers. Nine of the city's over 200 classical gardens are inscribed on the UNESCO World Heritage list. They embody top-notch ancient aesthetics. The settlement's moat has flowed for 25 centuries.
    The city in Jiangsu Province falls within the jurisdiction of the 144-hour visa-free transit for travelers from dozens of countries to Shanghai, Jiangsu and Zhejiang provinces. But it's worth three days on its own.
    Day 1 Whirlybird's-eye view
    Helicopter tours are a new way to view from above not only the ancient city by day but also the futuristic industrial zone's sparkle at night.
    Their appeal is that they hover, rather than soar, over striking panoramas.
    A growing number of guests use these whirlybird's-eye views as backdrops for milestone moments like proposals and weddings.
    Canal cruise
    Suzhou's appellation as the Venice of East comes not only from its grid of canals but also from the craft that ply these watercourses.
    Vessels still drift along the 80 kilometers of the nearly 1,800-km Grand Canal that flows through Suzhou on its way from Beijing in the north to Hangzhou in the south.
    The world's longest manmade waterway, a world wonder, was constructed in the Sui Dynasty (581-618).
    Zheng He Memorial Park
    The 100-hectare Zheng He Memorial Park hosts monuments to China's celebrated navigator Zheng He, the nation's answer to Magellan.
    A replica of the eunuch explorer's ship bobs next to a statue of the voyager that's 18 meters high, because he was 1.8 meters tall, on a pedestal that's 2.8 meters high, since his voyages spanned 28 years.
    The Zheng He Memorial Hall's Tunnel of Time depicts the progression of China's maritime expeditions over the millennias.
    Tablet museum
    Suzhou's Tablet Museum is literally history written in stone.
    The inscriptions are time capsules, rocks of the ages that speak to us from eras past. Their stories perhaps endure today because they're engraved in mineral slabs.
    Another 2,000 rubbings from the Ming (1368-1644) and Qing (1644-1911) dynasties are rendered as apparitions of engravings from those periods.
    Day 2 Taihu
    Think of Hong Kong. Then think of a freshwater body twice its size. That's Taihu Lake.
    A local saying declares of its shores: "A different flower every month, a different fruit every season, and fish and shrimp every day of the year."
    Indeed, throughout the calendar's fluctuations, the area's flora heaves with peaches, waxberries, pears, tangerines and gingko seeds. Boats to Jade Island offer tea picking and fruit harvesting.
    The lake is ringed by 365 kilometers of bike trails.
    Pingjiang Road
    Hipness meets history in this bohemian bastion, where creative types scrub paintbrushes into easels and thumb through novels outside cafes housed in historical buildings.
    Pingjiang Road is a canal-side street lined with teahouses, galleries and shops. It's in the slender lanes that music lovers find museums devoted to Kunqu Opera, pingtan and the city's guqin (Chinese zither) guild.
    Day 3 Tongli
    Tongli sits on the outskirts of Suzhou and in the heart of five lakes that pump water through its canals, arteries that carry its cultural lifeblood.
    About 50 bridges hop between the banks of the waterways that slice the ancient town into seven islets, atop which Ming and Qing dynastic buildings huddle.
    Taiping, Jili and Changqing bridges are places of pilgrimage where locals pray for good fortune.
    The settlement founded in Suzhou's outskirts in 1271 is a UNESCO World Heritage Site. (SD-Agencies)