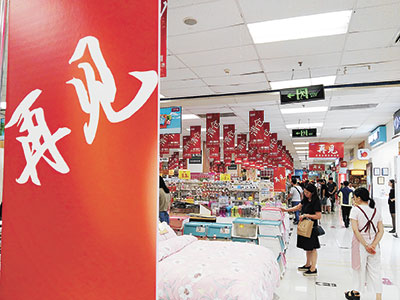 Liu Minxia
mllmx@msn.com
A HYPERMARKET outlet of Japanese retailer Aeon at a landmark shopping mall in Shenzhen's central business district is scheduled to close its doors Thursday after 10 years of operation, amid a sweeping retail revolution that is redefining every player and everything involved.
A major tenant of Coco Park in Futian District, operator of the 8,500-square-meter store, Aeon, decided not to renew its lease after its 10-year contract expires "due to an adjustment in its business," the firm told Shenzhen Daily on Friday.
One of the six Aeon outlets in Shenzhen, the store sells general merchandise. In addition to the supermarket it operates, there are shops that Aeon re-leases to individual clothing, baby product and kitchenware brands.
Several tenants of Aeon, who declined to be named, said Friday that the Aeon store will close because the operator of Coco Park, Galaxy Group, wanted to withdraw some of the floor area from Aeon to increase efficiency. The two sides failed to reach an agreement and Galaxy has leased about half of the area to Yonghui Superstores, which plans to open a high-end supermarket there in September.
Yonghui, a Shanghai-listed retailer, confirmed Friday that it has leased about 4,000 square meters at Coco Park for a new outlet. The Fuzhou, Fujian Province-based retailer operates roughly 360 stores across China, including six in Shenzhen.
Aeon, which opened its first Chinese store in 1996, said it has received many letters from customers after publicizing the closure, asking it to open stores near their communities, which has prompted the management to look for new projects in Shenzhen's Futian, Luohu, Nanshan and Bao'an districts. An imminent Aeon department store in Shenzhen is expected to open in the Buji area next year, which will cover more than 20,000 square meters.
Aeon stores were previously called Jusco and renamed Aeon in a rebranding strategy in 2013. The Coco Park outlet is offering discounts through its closure.