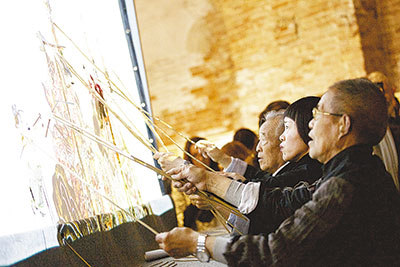 INVITED artist and Suzhou embroiderer Yao Huifen said she spent 20 years learning the craft.
"My work used to be solely traditional. For this exhibition I engaged in a different process, I tried to find new ways to bring the traditional to the contemporary — it was very enjoyable," she told Xinhua at the beginning of the 57th Venice Biennale, or 2017 international art exhibition in Venice.
The exhibition opened to the public May 14, and runs till Nov. 26.
Yao and three other artists were invited to extend and present Chinese artistic traditions in a show titled "Continuum — Generation by Generation" at the China Pavilion at this year's Art Biennale in Venice.
The China Pavilion is one of 86 national pavilions at the Art Biennale. Its core theme is that individual acts of creation take place in a communal context that stretches across the dimensions of both space and time.
The "Continuum" show at the pavilion mixes embroidery and sculpture, painting and performance, video and puppetry, installations and photography to explore the notion that artists stand in an unbroken line from antiquity to now.
Yao made nine pieces for the show, each using a different embroidery technique and up to 1,000 different colors.
"Some of the techniques I use go back 1,000 years," Yao said. "Taken all together, the pieces stand for continuity."
Also in the exhibition is work by Tang Nannan, who explores calligraphy and ink painting to make contemporary art.
In a mesmerizing black-and-white video unfolding in slow motion over four minutes, gray and black waves rise, curl and break across the lower half of the frame.
Above them, bolts of lightning flash within banks of roiling black clouds, against a distant range of tall black mountains.
When asked how he achieved this effect, which is spellbinding, peaceful and unsettling at the same time, Tang said he filmed on location in his native Taiwan, then enhanced the footage with a computer program.
"I needed a prehistoric-looking landscape, which is hard to find," he explained. "It took me four months to prepare for the shoot, then two months to actually get the footage I wanted."
Also at the China Pavilion was Shanghai-born artist Wu Jian'an, who uses folk craft elements such as shadow puppetry and paper-cutting in his large-scale installations.
He works closely with Wang Tianwen, a shadow puppet master from East China's Zhejiang Province, whose work is also featured in the "Continuum" show.
In a monumental piece titled "The Heaven of Nine Levels," Wu engraved images of salamanders, frogs and human-faced birds on layers of stretched leather cut in concentric patterns and standing over five meters tall by more than three meters wide.
The artist describes this as an evolution of the will to life and the will to power, with the "heaven of nine levels" as a food chain in which each being devours the other.
"It is a projection of human desires, a heaven that lies inside human bodies," he writes.
(Xinhua)