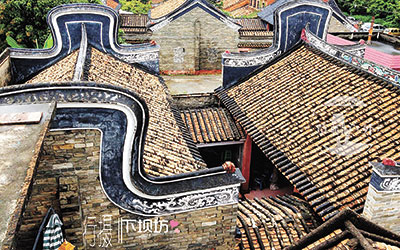 IN the vicinity of Shenzhen hides a small ancient village which carries the nicknames "Gulangyu" and "Little Lijiang," thanks to its well-preserved nature, traditional architecture and charming Lingnan culture. The village is Xiabafang, a place that blends creation, design, leisure and art into one.
Located in Batou Community, Wanjiang District in Dongguan, Xiabafang covers an area of 0.7 square kilometers. It was originally a normal village, but was later transformed into a place that is now thoroughly soaked in the ambience of literature and art, similar to Gulangyu in Xiamen, Fujian Province.
Gathering the culture essence of the Batou Community, Xiabafang is home to intact ancient constructions such as the Zhan Ancestral Hall and Shao Guangzhan Communal Ancestral Temple. It also still preserves the Lingnan water village layout dating back to the Ming (1368-1644) and Qing (1644-1911) dynasties.
Walking around the village, you will be attracted by the simplicity of the place: Each house is built with layer upon layer of bricks without any further decoration.
Deep into the alleys, you may from time to time, bump into the hanging street lamps, which even after ages of being battered by the wind and rain still preserve their original appearance and add a distinctive vintage glamour to the old place.
Glass bottles, which may only serve as recycling waste in other places, turn into unique works of art here, with many of them hanging together to form a glass bottle wall.
Dexian Courtyard is a small courtyard with a bit of an antique flavor to it, a nice place for tasting tea or wine, playing chess or the zither. Here you can embrace a slow-paced life, taking the time to unwind and relax from the droning of life.
No. 38 Low House is a chic Tibetan style pub. During the day, it is like a quiet girl while at night it turns into a coquettish woman.
Xiabafang in the night time is often compared to Lijiang. The soft yellow lights reflecting on the lake water create a warm and romantic atmosphere, a nice choice for taking a stroll with your lover.
When you feel tired, thirsty or hungry, you can easily find a small restaurant to drink some juice or coffee, eat some snacks or baked rice. Most of the stores and restaurants here do not open until 2 p.m. and close at around 2 a.m.
When you come here, you can also visit other tourist attractions nearby, including Batou Village, Yuan Chonghuan Memorial Hall, Keyuan Garden and Dongguan Foods and Custom Museum.
Add: Xiabafang, Batou Community, Wanjiang District, Dongguan 东莞市万江区坝头社区下坝坊
Transportation: Take the Intercity Bus No. 28 from Fuyong Bus Station to Dongguan Terminal, then take Bus No. 29 to Batou Village Committee and walk around 150 meters to reach the destination.
(Chen Xiaochun)