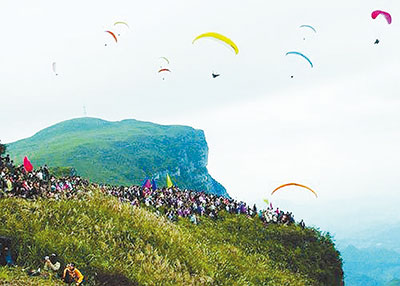 SOMETIMES you may become so fed up with your mundane life that you don't have the energy to go on with your work and life. When this happens, you need to find something really exciting to get yourself "charged." What's the best way to do that? Go for extreme sports. Here are the best extreme sports sites near Shenzhen which offer you a fantastic chance to see parts of the coastline and landscape you can't access through ordinary means.
Hang gliding:
Luofu Mountain, Huizhou
As one of the few gliding bases in Guangdong Province, Luofu Mountain is unique in that it has two takeoff sites with different wind directions. Tandem paragliding is available and the one-way flight lasts 21 minutes. As the breeze carries you high, you can get a picturesque view of the verdant mountain landscape.
Price: 300/per person/per flight
Location: Luofu Mountain Scenic Spot, Huizhou 惠州罗浮山风景区内
Lufeng City, Shanwei
Thanks to its unique geographical conditions with rolling hills, plateaus, flatlands and lowlands, Lufeng City has become an ideal spot for hang gliding lovers from Hong Kong, Shenzhen and Guangzhou to seek thrills. The two most popular spots are Shishan Mountain and Shuidi Mountain.
Shishan Mountain covers an area of over 1,000 acres and has an open and broad flatland on the southeast side, making it a perfect landing spot for gliders.
Shuidi Mountain, a newly-opened spot for hang gliding in recent years, has an altitude difference of more than 630 meters. Its takeoff site boasts gentle moderate slopes, which makes it a good spot for beginners to practice all year round.
Location: Lufeng City, Shanwei, Guangdong
广东汕尾陆丰市
Surfing and waterskiing
Dapeng Peninsula, Shenzhen
Dapeng Peninsula is on the far eastern side of Shenzhen. To the southwest of the peninsula is Dapeng Bay and to the northeast is Daya Bay. It borders Huizhou and is to the northeast of Hong Kong. With a land area of 294.18 square kilometers and a coastline of 133.22 kilometers, the peninsula is a great place to go surfing.
Price: 168/per person
Location: Jinshui Bay, Dapeng Subdistrict, Shenzhen 深圳市龙岗区大鹏金水湾
Songshan Lake, Dongguan
Waterskiing is a dangerous yet beautiful water sport which requires excellent physical and technical skills. Located by a series of small islands on the south side of Songshan Lake, Dongguan, the waterskiing spot boasts beautiful scenery along with a superb waterskiing experience.
Location: Xincheng Road, Dongguan 东莞市市辖区新城路
(Yang Mei)