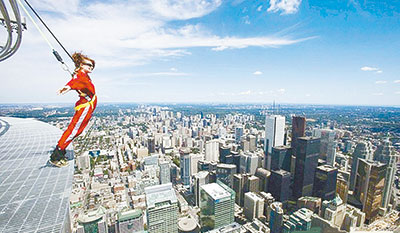 SOMETIMES you may become so fed up with your mundane life that you don't have the energy to go on with your work and life. When this happens, you need to find something really exciting to get yourself "charged." What's the best way to do that? Go for extreme sports. Here are the best extreme sports sites near Shenzhen which offer you a fantastic chance to see parts of the coastline and landscape you can't access through ordinary means.
Bungee jumping
Baiyun Mountain, Guangzhou
With a jump height of 45 meters, Baiyun Mountain features one of the best bungee spots in South China. Fall speeds here are often recorded at up to 60 km/h so this jump definitely isn't for the faint of heart.
Cost: 200 yuan/per person/per time
Location: Baiyun Mountain Scenic Spot, Baiyun District, Guangzhou 广州市白云区白云山风景区内
Macao Tower, Macao
Be a part of a Guinness World Record in the sky of Macao. The Macao Tower Bungee Jump is 233m high, making this jump a Guinness World Record for the highest commercial bungee jump in the world.
Price: Full package is 3,988MOP or roughly 3,375 yuan (US$496). Package includes bungee jump, e-certificate, membership card, exclusive t-shirt, video+photos in USB and tower ticket.
Location: New Reclamation Area, Nanwan Bay, Macao 澳门南湾新填海区
Skydiving
Nothing gives you a more adrenaline-fueled feeling than flying in the air. Located at Taishan Airport, Taishan, Yangdong County, the skydiving base is the first in Guangdong Province to offer a 3,000-meter-high jump.
Price: Around 5,680/per person
Location: Taishan Airport, Taishan, Yangdong County, Guangdong 广东阳江阳东县台山镇台山机场
Rock Climbing
Yingxi Peak Forest, Yingde
Reputed as the "Most Beautiful Peak Forest in South China," Yingxi Peak Forest boasts one of the largest and most concentrated peak forests in China. The calcareous rocks of the peak forest are perfect for rock climbing. The routes here range from 5.8 to 5.12, making the spot great for climbers of all skill levels.
Location: Jiulong Town, Yingde, Qingyuan, Guangdong Province 清远市英德九龙镇
(Yang Mei)