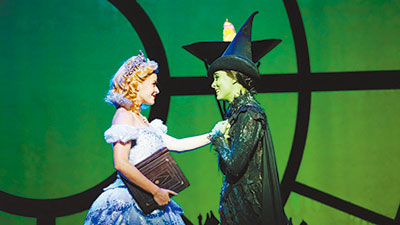 Cao Zhen
caozhen0806@126.com
IF you could have any magical power, what would you like to have?
"I would like to fly whenever I want, with or without my broom, just go," Jodie Steele told the Shenzhen Daily in an interview at Guangzhou Opera House, where the Broadway and West End musical "Wicked: The Untold Story of the Witches of Oz" is being staged until July 2.
Steele plays the green-skinned witch in "Wicked," which is on its international tour and opened in Beijing and Shanghai in April and May.
Based on the 1995 Gregory Maguire novel "Wicked: The Life and Times of the Wicked Witch of the West," an alternative telling of the 1939 film "The Wizard of Oz" and L. Frank Baum's classic 1900 story, "The Wonderful Wizard of Oz," the musical is told from the perspective of the witches of the Land of Oz. It centers on the profound friendship between two witches, the blonde and popular Glinda and the misunderstood green-skinned Elphaba, and their struggles with their personalities and viewpoints, rivalry over the same love interest and reactions to the Wizard's corrupt government.
"Elphaba, the wicked witch, is a misunderstood character. She's never been accepted or loved but she is really true to herself in her beliefs and ultimately fights for everything she believes in. She's not only a powerful witch but also a virtuous woman," said Steele.
"There are always two sides to a story and that's what 'Wicked' explores. Everything isn't always as it seems. At the beginning, it is superficial to see that Elphaba is supposed to be evil and then it takes time for you to find out the other side of the story. One of the themes we touch upon is having good intentions with bad results. If you only see one side of a person, it does mess," said Leigh Constantine, resident director of the current production.
Constantine stressed that the musical appeals to people of all ages. "'Wicked' is a story of love, loss, challenges, alienation and acceptance. Ultimately, it is about friendship between two strong and very different women. Wherever you're from or whatever your background is, everyone can relate to this story of friendship," she added.
Carly Anderson, who plays Glinda, believes that friendship lies at the heart of "Wicked" and it can change a person for the better. "Glinda is a complex and flawed character. At the beginning, she always gets what she wants. Only when she meets Elphaba, and goes on a huge journey and her views begin to change, does she find out about the important things in life," said Anderson.
"Wicked" is led by two female characters, which is very rare for musicals. Three major male performers, Bradley Jaden (playing Fiyero), Steven Pinder (playing the Wizard and Doctor Dillamond) and Iddon Jones (playing Boq), all admit that they were positively influenced by the two female leads in the play.
"We all go on a massive emotional journey with these powerful women. It's wonderful to watch these incredible women taking us on an amazing journey and I feel I'm changing every night after the performance," said Jaden.
The original production of "Wicked" won three Tony Awards and six Drama Desk Awards, while its original cast album received a Grammy Award. Due to its lavish setting, dazzling costumes, catchy musical numbers and thought-provoking story, it has been beloved by theatergoers since it premiered on Broadway in 2003.
Tony Award-winning designer Eugene Lee created the set and visual style for the production. Costume designer Susan Hilferty created about 200 costumes, while lighting designer Kenneth Posner used more than 800 individual lights to illuminate each of the 54 distinct scenes. "We try to create the magical and fantastic Land of Oz with the use of automated mechanical systems. Every wire on the stage is controlled by computers and in this newest production, we have additional flying choreography, so audience members can see more 'monkeys' and people 'flying' in the air," said Constantine.
Featuring popular numbers including "Defying Gravity" and "For Good," "Wicked" is also a joyful concert for music lovers. Composed by Stephen Schwartz, the music helps to shape and manufacture thrilling and fantastic scenes. At the end of Act I, Elphaba casts a spell on a broom and then flies up into the air, singing "Defying Gravity" while 5 meters above the stage. The song was later used by NASA to wake up astronauts aboard a space shuttle mission in 2010 in honor of the day's planned extra-vehicular activity. It was also performed twice on Fox's TV show "Glee."
"'Wicked' is a landmark in musical theater for its brilliant musical score. The music helps to create all of the strangest parts of the show. We use lots of percussion coupled with brass and woodwind to create the magical world of Oz. I believe audience members will be stunned," said musical director Dave Rose.