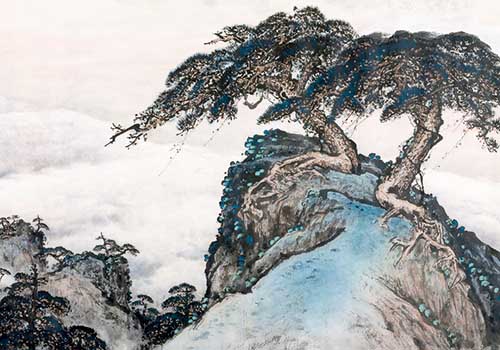 Cao Zhen
caozhen0806@126.com
TO mark the 20th anniversary of Hong Kong'a return to China and the 20th anniversary of the opening of Guan Shanyue Art Museum, the museum is offering visitors a veritable feast of art masterpieces by Guan and 13 other Chinese masters.
A public art gallery named after well-known painting master Guan Shanyue (1912-2000), the museum opened June 25, 1997, after Guan donated 813 of his paintings. The museum is a cultural organization for displaying, collecting and studying Guan's artworks. It also has other national contemporary art gallery functions.
The newly opened "Guan Shanyue and His Age: Research on the 20th Century Landscape Painting" exhibition showcases landscape paintings by Guan and masters including Huang Binhong, Fu Baoshi, Qi Baishi, Gao Jianfu, Lin Fengmian, Wu Guanzhong, Pan Tianshou and Li Keran.
"Landscape paintings in the 20th century represent the century-long accomplishment of Chinese fine art, so we selected landscape paintings as this exhibition's theme," said Chen Xiangbo, curator of the museum. "Guan was a prominent figure in Chinese ink paintings in the 20th century but he didn't strive alone. In different periods, places, from different perspectives and approaches, his peers and artists before and after him took turns to make contributions to the innovations in landscape paintings. Only by observing the historical context that Guan was in and the interacting art circles around the country, can we gain a comprehensive understanding of Guan's status in 20th century Chinese fine arts. So we also present several other representative masters' works at the exhibition," Chen added.
The painters were grouped in three time periods. Gao, Lin, Qi and Huang in the 1912-1948 category are considered pioneers of modern Chinese painting. Lin and Gao blended Chinese and Western styles. Qi is noted for the whimsical, often playful style of his watercolor works, while Huang is noted for his freehand landscapes. During this period, Guan was influenced by his teacher Gao and created paintings of southwestern and northwestern Chinese landscapes. Other masters are grouped into the periods of 1949-1977 and 1978-2000, during which Chinese landscape paintings featured a more realistic style.
In another exhibition hall, 60 collaborative paintings created by Guan and his friends Zhao Shao'ang, Li Xiongcai and Yang Shanshen in the 1980s are also on display. In the 1950s, Zhao and Yang settled in Hong Kong while Li and Guan lived in Guangzhou. The four didn't meet again until in the early 1980s, when they had a get-together meal in Kowloon and decided to create a batch of collaborative paintings.
However, the paintings were finished in different locations and at different times. So it was up to Yang Qi, the then secretary general of Xinhua News Agency's Hong Kong Branch, to travel between Hong Kong and Guangzhou with the paintings in tow so that the collaborations could be completed. With their profound artistic mastery, fine techniques and modest attitude, the four masters finally created more than 100 collaborative paintings.
Zhao was masterly at painting flowers and birds with rigor and tenderness, while Li was superb at painting pine trees and magnificent mountains with his strong brushstrokes. Guan, however, was adept at depicting grand landscapes to unveil the endless vitalities of nature and Yang was great at exploring art in daily life to create a calm atmosphere. Together in their collaborative paintings, these distinct styles and virtuosities integrated perfectly to create art that was uniquely capable at representing modern Chinese paintings and the artistry behind them.
Dates: Until July 21
Open: 9 a.m.-5 p.m., closed Mondays
Venue: Guan Shanyue Art Museum, 6026 Hongli Road, Futian District (福田区红荔路6026号关山月美术馆)
Metro: Line 3 or 4, Children's Palace Station (少年宫站), Exit B