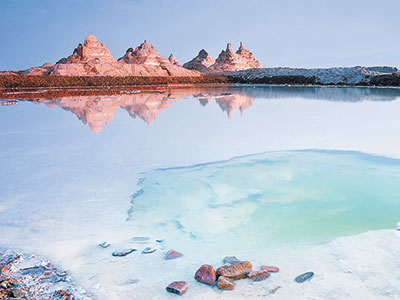 RATED by Chinese National Geography as one of the 55 must-visit places in your lifetime, Chaka Salt Lake, is nicknamed "China's mirror of the sky." It reopened this May after upgradation and reconstruction since last October. But due to poor transportation, most people have yet to witness its charm.
However, for people in Guangdong, here is good news — a direct high-speed train route linking Guangzhou and Lanzhou is expected to be put into operation in July, which will take less than 10 hours, making the trip to "China's mirror of the sky" much more convenient.
Maybe some of you remember the scene where a train travels through water in Hayao Miyazaki's "Spirited Away." If you come to Chaka Salt Lake, you will see the real-life version of it, a train that travels through water like in a wonderland.
Standing in the middle of the lake, the endless sky and water merge into each other in such a distorting way that it almost makes you feel like you've entered into a two-dimensional space.
Chaka Salt Lake at night, with the reflections of the stars on the lake, will stun you with the beauty and grandeur of the universe, all the while humbling you as you stand insignificantly against the sweeping heavens above you.
The enormous salt carvings here are another source of awe. The huge salt carving of Genghis Khan, the Great Khan and founder of the Mongol Empire, is 50 meters long, 30 meters wide and 8 meters high and is made up of 4,800 tons of salt.
Besides Chaka Salt Lake, there are many other tourist attractions nearby you don't want to miss out on.
Yinchuan, capital of Ningxia Hui Autonomous Region, is home to over 60 historical sites including mosques, pagodas, pavilions, temples and imperial tombs as well as natural scenery such as Helan Mountain, Sand Lake and Shapotou. China Western Film Studio is also worth a visit if you find yourself in the neighborhood.
Qinghai Lake, in the northeast part of Qinghai Province, is the largest inland saltwater lake in China. The 8-square-kilometer Bird Island, on the western edge of the lake, is a paradise for more than 100,000 migratory birds, including bar-headed geese, brown-headed gulls, swans and wild ducks.
The golden world of Menyuan County is famous for its vast green fields and yellow canola flowers, and July and August are the best times to visit Menyuan Hui Autonomous County for thousands of hectares of rapeseed can be seen blooming in all of their golden glory.
Qiyi Glacier, located in the hinterlands of the Qilian Mountain Range, southwest of Jiayuguan City, Gansu, is one of the most accessible glaciers in Asia and a nice option for mountaineering enthusiasts.
(Chen Xiaochun)