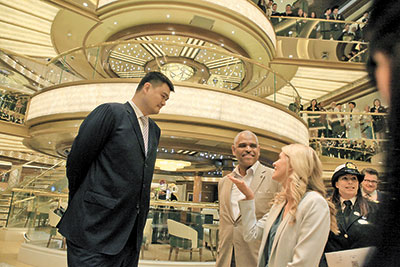 MAYBE you have taken a flight before and flown from warm Hainan in the south to the northeastern ice palace in Harbin in wintertime. Maybe you have hopped on a train and traveled for nearly a month across half of the country and have bicycled in Yunnan and Tibet. But have you ever set sail on a cruise ship and indulge yourself in life out at sea?
On July 10, former basketball player Yao Ming and his wife Ye Li officially named the Majestic Princess, the first Princess Cruises ship specially designed for the Chinese market, during a ceremony that took place aboard the ship for its maiden voyage in Shanghai.
With a bit of Chinese flair, the Majestic Princess also features a brand-new Sea Witch livery design on her bow.
Influenced by fashion, art and history, the interior design of the Majestic Princess presents a sophisticated and stylish visual experience. Designs use metal, glass and inlaid wood, European marble, mosaic tile floors, polished woods and sumptuous fabrics, as well as plush Asian-inspired custom-designed carpets.
Accommodations
From the moment you step aboard, you will feel welcomed and right at home. With attentive services from a friendly staff that knows what hospitality means, you'll find the Princess truly is your home away from home.
More than 80 percent of Majestic Princess' staterooms include a private balcony, and all feature the new Princess Luxury bed with a custom-made mattress developed by Dr. Michael Breus, the board-certified sleep expert recognized as "The Sleep Doctor." The bed also includes luxury linens designed by Candice Olson, the Canadian design star of the hit HGTV shows "Candice Tells All" and "Divine Design." The bedding is exclusively designed for the Princess SLEEP program.
Dining
Indulge your appetite whenever you wish on board the ship. Every hour, the chefs are busy baking, grilling and sautéing great-tasting fare from scratch. Here you will find unparalleled inclusive dining options throughout the ship with a wide range of culinary delights to suit any palate, from endless buffet choices to gourmet pizza, frosty treats, decadent desserts and much more.
Besides, there is a specialty restaurant, Harmony, created in partnership with the former chef of Wing Lei — the first Chinese restaurant in North America to be awarded with a Michelin star. The restaurant features chef Richard Chen's interpretation of classic Cantonese dishes.
Entertainment
Get ready to move and groove to original musicals, dazzling magic shows, feature films, top comedians and nightclubs. There's something happening around every corner. Luckily, you have a whole cruise of days and nights to experience it all.
(Chen Xiaochun)