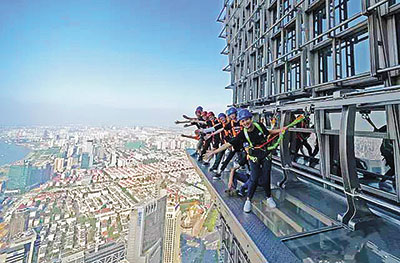 LIFE is about trying new things and challenging yourself and walking across a glass bridge might just be one of them. Here we have listed out a few glass bridges in China which will definitely test your guts.
Zhangjiajie Grand Canyon Glass Bridge
Zhangjiajie Grand Canyon Glass Bridge, the longest and tallest glass-bottomed bridge in the world, is sure to give terrified tourists a heart-stopping day out.
The 6-meter-wide bridge stretches 430 meters over a 300-meter-deep valley between two cliffs in the stunning Zhangjiajie Park. As the world's highest and longest glass bottemed bridge, it has surely scared quite some people.
Add: Tianmenshan Cableway, Guanliping, Yongding District, Zhangjiajie, Hunan Province (湖南省张家界永定区官黎平天门山索道下站)
Shiniuzhai glass skywalk
While there are several other popular skywalks in China, Shiniuzhai Glass Bridge was the first to add music to the mix. Fitted with pressure sensors which play 70 different notes, the bridge plays musical notes as visitors walk across it.
So anyone brave enough to cross the path can compose a tune at the same time. But melodies might not do much to calm the nerves, most visitors can still be seen keeping a firm hold on the hand rail.
The path stretches for 180 meters along the side of a mountain in Shiniuzhai National Geopark, and features special double-layered glass.
Add: Shiniuzhai National Geopark, Pingjiang County, Yueyang, Hunan Province (湖南省岳阳市平江县石牛镇风景区)
Huaihua Wanfo Mountain glass bridge
This glass bridge features spectacular views of Danxia landforms and it might be one of the freakiest glass bridges you can find.
Wanfo Mountain and Dong Village National Park, located in Tongdao Dong Nationality Autonomous County, is praised as a national natural heritage of China. It covers 168 square kilometers and consists of Danxia landforms along with the Dong Culture Corridor.
Add: Wanfo Mountain, Tongdao County, Huaihua, Hunan Province (湖南省怀化通道县万佛山景区)
Skywalk on the Shanghai
Jinmao Tower
With a length of 60 meters, width of 1.2 meters and at 341 meters above the ground, Jinmao Skywalk is the highest skywalk path built on any skyscraper around the world. It is open and totally transparent without banisters. You will definitely feel like you are walking on clouds when you look out onto the spectacular cityscape surrounding you from this vantage point.
Add: No. 88, Century Avenue, Pudong New Area, Shanghai (上海市浦东新区陆家嘴世纪大道88号)
Other well-known skywalks include the one inside the Qingjiang glass bridge in Changyang, Hubei Province, the Mingtang Mountain Glass Bridge in Anhui Province, the glass suspension bridge in Shuanglonggou Forest Resort in Guangxi and the Tanxi Mountain Glass Bridge in Zibo, Shandong.
(Chen Xiaochun)