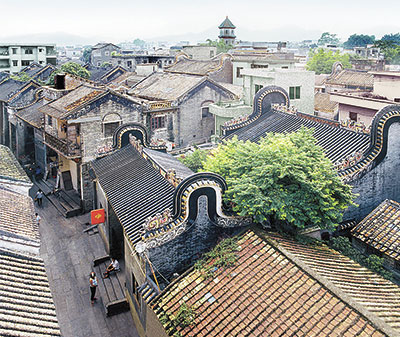 FOR ancient town lovers, maybe it's hard for you to find your destinations to match your budget and let alone get enough days off to plan a proper vacation. But here is good news. Just 1.5 hours' travel from Shenzhen, you can reach an 800-year-old ancient town of Lingnan style — Shawan Ancient Town.
Located in Panyu District in southern Guangzhou, Shawan Ancient Town was originally built during the Southern Song Dynasty (1127-1279) and enjoys a history of over 800 years. It features not only rich history and culture but is also known for many traditional local delicacies, some of which are hard to find in even the other old districts of Guangzhou.
The town is simultaneously primitive and elegant. Rows of houses, old streets and long alleys showcase the features of the ancient Lingnan style. The most common attractions you can see here are ancestral halls, the number of which has reached 100.
Big banyan trees standing at the corners of streets, stone benches along the lotus pond, and a variety snack booths together add a nice touch of Lingnan flavor to the town. The exquisite tile carvings, an intangible heritage that dot the town, will tell you the story of Guangzhou craftsmen.
When strolling along the alleys of the town, you will bump into oyster walls from time to time. Oyster walls, built up by layers upon layers of oyster shells, are not only great for blocking outside noise but also make the houses cool in summer and warm in winter.
Once you are here, remember to check out Liugeng Hall. It is a representative building of Shawan Ancient Town. Originally built in 1275, it has been destroyed many times and the present hall was reconstructed in 1720. Covering 3,300 square meters, it is the largest ancestral shrine of the He family, the largest family in this town.
What's more, not far away from the ancient town lies a time-honored cheongsam shop which enjoys a history of over 100 years. The delicate embroidery and long history is sure to bring joy to cheongsam lovers.
After walking for some time, you'll of course feel hungry. Shawan Nainiu Huanghou (Shawan Milk Cow Queen) dessert shop specializes in Cantonese desserts made with milk, such as double cream custard and ginger milk pudding. Qinfangyuan is a dessert shop known for its fried milk, green bean paste, sesame paste and glutinous rice dumplings.
Meichao roast chicken is known for its roast chicken and the roast chicken with rice here only costs 12 yuan (US$1.8). And not to be outdone, at Dangdang Wonton you can taste a bowl of wontons for just 5 yuan.
Add: Shawan Ancient Town, 10 Daxiangchong Road, Panyu District, Guangzhou (广州市番禺区沙湾大巷涌路10号沙湾古镇)
Open hours: 9:30 a.m.-5:30 p.m.
Ticket: 35 yuan
Transportation: Take a train from Shenzhen North Railway Station to Guangzhou South Railway Station, then take Metro Line 3 to Panyu Square Station, then transfer to Bus Pan 29; get off at Liugeng Hall, then walk for 140 meters to reach the destination. (Chen Xiaochun)