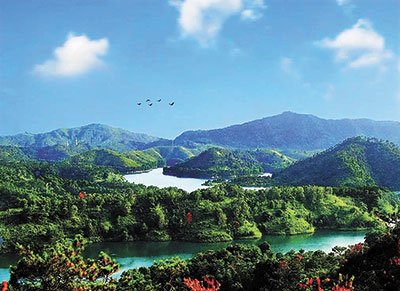 WHAT is happiness? Is happiness a feeling or a mindset? Different people may have different definitions. Some people feel that living an ordinary life is happiness while others think that having a high salary is happiness.
However, it is closer to a state of well-being and contentment. "Happiness is not exuberant nor bustling like pleasure or joy. It's silent, tranquil and soft. It's an internal state of satisfaction which starts by loving oneself," Chilean-American writer Isabel Allende wrote in her novel "The Japanese Lover."
Recently, the China Institute of City Competitiveness released the 2017 list of the happiest cities in China and three cities in Guangdong, namely Huizhou, Zhuhai and Zhaoqing, are among the top 10. Today we will "embark on a journey" to these three cities to find out their secrets to happiness.
Beautiful and secluded
Huizhou
Surrounded by mountains and lakes, Huizhou is home to brilliant scenery that has been favorably bestowed by nature. When the renowned Chinese poet Su Shi visited Huizhou, he could not help but write "I am willing to be a resident in Lingnan."
Luofu Mountain, located in Huizhou, is hailed as "the Oasis on the North Tropic of Cancer." The mountain is enshrined by Taoists as the seventh heavenly place to cultivate oneself.
Luofu Mountain covers a sprawling expanse of more than 214 square kilometers with a total of 432 mountains and peaks, 980 waterfalls and springs and many bizarrely-shaped stones, cliffs and caves. The fascinating mountains are covered by lush green forests and are dotted with the abodes of fairies and immortals. When you are hiking here, all your fickleness and anxiety will surely fade away.
Besides, Huizhou offers up one of the richest opportunities for angling to be found anywhere in China. So once you are in Huizhou, don't forget to go fishing and treat yourself to a seafood feast!
Shuangyue Bay (Double-moon Bay) gets its name from the twin moon-shaped bays. You can have a bird's-eye view of Huizhou peninsula from the top of the mountain here. The soft white sand, cozy sea breezes and the natural sound of the waves beating against the coastal rocks will calm your nerves immediately. Come and enjoy the "wind in your hair, the sand between your toes and the sun upon your skin."
Xunliao Bay, situated on Nianping Peninsula and with a coastline of 27 kilometers, was rated as a national AAAA tourist resort in May 2010. Xunliao has always been famous for its uniquely-shaped stones, clear water and white sands. It is an unpolluted, quiet paradise for sea-lovers. The pure water, shining white sand make it a "Green Emerald" and "White Golden Beach."
(Chen Xiaochun)