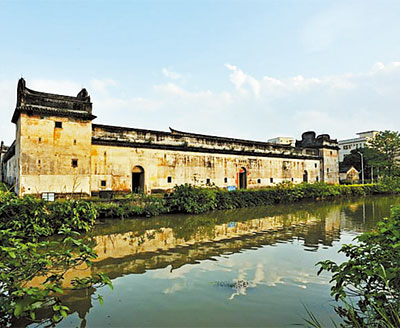 Wang Liang, Tan Yifan
cicitan2011@gmail.com
SCHOLARS and researchers believe that Shenzhen faces a number of challenges in preserving local Hakka architecture. Among all these challenges, two stand out: the lack of professional experience in dealing with the houses, and loopholes in current property laws and culture relics laws, which in some cases not only fail to solve problems but worsen protection efforts.
Shenzhen folk culture scholar Liao Honglei and Huang Weiwen, chief planner of the engineering laboratory of Shenzhen Institute of Building Research, raised these issues after a two-week public exploration on local Hakka culture recently.
Organized by Liao and Shenzhen Center for Design, which was inspired and attracted by Liao's proposal to protect local Hakka architecture during the Spring Festival of 2017, the exploration aimed to raise people's interest in Hakka culture. To serve that purpose, organizers designed a two-part cultural journey: a visit to local Hakka buildings and an open class. Famed local scholars were invited to guide visitors and give lectures.
According to Liao, in 1992 there were 1,200 ancient Hakka villages in Shenzhen, but 10 years later, only 159 remained. Hubei Village, one of the existing two ancient villages in the former special zone, will be transformed into a commercial area. Shenzhen once featured the largest number of gun turrets in China with over 1,000 such buildings, and now it has only 650 gun turrets — most of them were replaced by offices and apartments.
"Now most new immigrants only know those villages by name. Appealing stories and precious relics were wiped away as the structures were pulled down," Liao said.
Some people did try to prevent the dismantlement of the houses. Villagers in Pingshan tried to renovate them by using modern materials and transforming them into inhabitable modern residences. However, they didn't realize that what they did actually severely damaged the houses, said Huang.
"Also, the government may regard those actions as illegal and as a result, the government might demolish the newly rebuilt houses." Huang added.
Even if those structures are allowed to remain, as people know little about them, the visitors they attract will become fewer and fewer and the ticket revenue will be unable to support their preservation.
"There is no specific law with detailed instructions on redeveloping those relics and the market need is still under research, thus, it is not easy to find a developer or businessman to redevelop them and in the meantime protect them," Huang said.
Before 1980 when Shenzhen Special Economic Zone was established, Hakkas accounted for 56 percent of the city's total population. Along Apojiaoli River and Dali River in Pingshan District, many Hakka houses were built by descendants surnamed Huang 200 years ago. The Huang clan in Kengzi area of Pingshan accounted for 80 percent of Hakkas in Shenzhen. "Hakka people have left their genealogy on the land of the city," said Huang.
Because of Shenzhen's natives such as Hakkas, the city's history can be traced back to 1,600 years ago, when people started to immigrate or were forced to relocate here.
According to Liao, of the over 300 recorded Hakka buildings in the city, only 194 remain. Different from hakka homes seen in other places in Guangdong, Fujian and Jiangxi provinces, most local Hakka structures here are square in shape rather than round. There are 45 large houses covering over 5,000 square meters each in Kengzi area alone.
The only circle-shaped house is Qingpai Residence in Pingshan. It has a crescent pool, which can be used to irrigate farmland, prevent fires, alleviate droughts and raise fish and shrimp. As people walk into the house, they will find it has been divided into three parts: The relatively lower entrance hall is for guests; the middle hall is for feasts and conferences; and the inner hall is for worshipping ancestors and other important events. From a bird's-eye view, people may find that the house forms the character "chang," which means prosperous.
Ancient Hakkas attached great importance to education. They would build flagpoles in front of their gates as prayers wishing for their children to pass their examinations, and they would place a large stone pen on the flagpole to symbolize literary achievements and a stone sword to show martial success. We can still find these flagstones at Huilong Residence in Pingshan.
Hakka culture also promotes filial piety. Hakkas encouraged their children to be filial through couplets they'd place on the walls of their homes.
Although Hakka culture once had great influence on local residents, it now faces a crisis and may be engulfed by brand-new, tall buildings within a short time.
"I often thought that why we should erase all those ancient buildings when we start to develop an area. Can we not keep them and operate them like other real estates?" said Huang.
Huang said they have already invited designers and social institutions to conduct research on the possibilities of redeveloping the structures.
"We need the society, including the government to engage in the protection of these structures. And the real-estate developers must understand that what they plan to build can co-exist with ancient relics and the latter can also benefit people," Huang said.