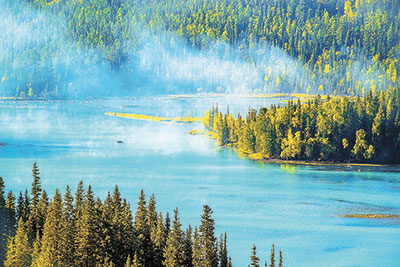 SHENZHEN'S semi-permanent summer climate is nice, but some of us crave a real autumn experience complete with mountains decked out in full autumnal glory, golden leaves falling from trees, flying around like dancing butteries, and covering walkways with a gilded carpet.
China National Geography once traveled the country from Arxan in Inner Mongolia Autonomous Region to Jiuzhaigou Valley in Sichuan, crossing mountains, lakes, valleys, deserts, forests, wetlands, prairies, urban areas and countryside, with the sole purpose of identifying the most captivating autumn spots in China. Here we list some of them for you:
Striking scenery at Lake Kanas
September means the beginning of the golden season for Lake Kanas, which nestles deep in the forests and mountains of Altay near the very northern tip of Xinjiang.
The lake is 1,374 meters above sea level with the deepest point at 188.5 meters. In autumn, it presents a picturesque landscape of forests in a riot of colors with gold, red, blue and green, making for sights that excite the senses.
White birch, red pines and firs around the lake together with white snow adorning mountain tops all reflect on the serene lake surface, providing a rare angle for breathtaking photos. A blending of prairies, mountains, forests, plains, glaciers and wetlands make this sacred area a holy land for shutterbugs and nature aficionados.
Best fall foliage period in Beijing
"In autumn, I must stay in Beijing. I don't know what paradise looks like, but from my life experience, Beijing in autumn is paradise," said celebrated Chinese writer Lao She in one of his books.
Autumn is the best season for Beijing travel, not only because it has tenderly warm sunshine and brilliant blue skies, but also because of the gorgeous scenery. Without the disturbance of summer heat and winter frigidity, people can enjoy a most comfortable atmosphere in which to breath in crisp air and enjoy all kinds of outdoor activities.
Climbing the Great Wall and feasting your eyes on the spectacular scenery of red leaves in Beijing's mountainous areas are two must-dos when visiting the capitol in autumn. The Badaling section of the Great Wall, looking like a huge dragon crawling over peaks of rich colors, will definitely wow you.
Baiwangshan Forest Park, 3 kilometers north of the famous Summer Palace, also offers an excellent view of enchanting red leaves in autumn. Situated in Haidian District, this park occupies an area of more than 130 hectares, with some 95 percent covered by various plants and trees.
In autumn on the mountain is beautifully decorated with splendid red foliage. The common smoke tree is the main species, while the intoxicating red leaves on the torch trees resemble countless burning lanterns on the mountain.
Diaoyutai Ginkgo Avenue, located outside the east wall of Diaoyutai State Guest House in Xicheng District, is one of the capital's most popular gingko-viewing areas and a nice place to enjoy fall colors without leaving the city center. Don't miss it when you visit Beijing. (Chen Xiaochun)