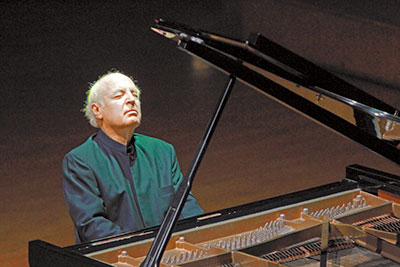 Debra Li
debra_lidan@163.com
A MONTHLONG piano music festival will kick off Oct. 21, bringing concerts, master classes, lectures and an exhibition for piano students and fans to town.
The fifth session since its inauguration in 2013, Shenzhen Piano Music Festival, an event endorsed by the city's Culture, Sports and Tourism Administration and organized by Shenzhen Mass Culture Association, hopes to reach out to the public and build a platform for helping young piano talents shine.
The opening concert will feature Cuban pianist Jorge Luis Prats. Accompanied by Shenzhen Symphony Orchestra, Prats will perform Rachmaninoff's "Piano Concerto No. 3 in D Minor," known as one of the most technically challenging piano concertos in the standard classical repertoire.
German-born Israeli-American pianist Menahem Pressler will also make an appearance. He has collected numerous honors, including six Grammy nominations, a lifetime achievement award from Gramophone magazine and the International Classical Music Awards among others. For over six decades, the 94-year-old has performed on the stages of the world's most acclaimed concert halls. Still hot on the concert circuit today, the nonagenarian will bring an unforgettable experience to local fans.
Arie Vardi, an Israeli classical pianist, conductor and piano pedagogue who has coached more than 50 young pianists who then went on to win first prizes at major international competitions, will perform a concert featuring Chopin's works.
Italian Antonio Di Cristofano will stage a piano recital of Beethoven's works. Robert Lewis Blocker, U.S. classical pianist and dean of the Yale School of Music, and young pianist Sean Chen will also perform solo concerts.
The feature show of the festival is a concert devoted to the works of Chinese composers. This year's concert will feature 14 pieces by pianist and composer Wang Jianzhong. Blending Chinese folk music elements with his unique twist, Wang's works have been labeled as "Chinese-speaking piano music."
Students of Professor Dan Zhaoyi from Shenzhen Arts School will also perform at the concert.
The closing concert, featuring Chinese young and middle-aged pianists including Shi Shucheng, will bring classical Chinese pieces such as "The Yellow River Piano Concerto" and "Butterfly Lovers."
Apart from the masters' series, the festival has arranged three public benefit concerts on campus: one performed by teens who have won awards at piano competitions from Beijing, Shanghai, Shenzhen, Hong Kong, Macao and Taiwan; one featuring piano prodigy Yang Hechao; and one presenting animation movie music along with movie scenes.
The festival also arranges for 10 concerts performed by local piano teachers and students, giving them an opportunity to showcase their talent. Wang Keyi, 9, has been enrolled at the Julliard School of Music with a full scholarship after being recognized at last year's festival.
During the festival, scores of antique pianos will be on display at Yaxing Piano City in Longhua New District, giving audiences a rare opportunity to travel back in time and witness the 19th century when piano underwent drastic changes.
The majority of the shows and lectures will give out free tickets, according to Yang Suxian, director of the festival. Some shows will charge a maximum of 50 yuan (US$7.57) for admission.
With near 1,000 piano stores and training centers, 10,000 piano teachers and 200,000 students, Shenzhen is true to its name as a piano city, an intentional cultural strategy initiated by the city government in 2004.