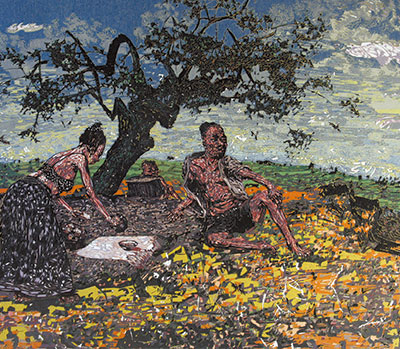 Wang Haiying
why.art@163.com
SINCE the Movement of Modern Woodcut in the 1930s, Chinese printmaking artists have created numerous brilliant works. Offering the best prints by nine of China's leading artists, a major exhibition entitled Being Here: A Union of Chinese Printmaking Studios 2017 is now on display at the Guangdong Museum of Art in Guangzhou through Sept. 24.
The artists, Su Xinping, Zhou Jirong, Chen Qi, He Kun, Zhang Guanghui, Lu Zhiping, Xu Baozhong, Kong Guoqiao and Song Guangzhi are accomplished printmakers from seven cities in China, most of them belonging to the generation born in the 1960s.
The works include different kinds of printed media such as woodcut, lithograph, copperplate, silkscreen, and so on, and each piece represents the artists' reflections upon nature, individuality and daily life.
Nature in illusions
Artists are especially sensitive to beauty in nature. For instance, Xu, director of the Printmaking Department at Lu Xun Academy of Fine Arts in Shenyang, created a series of dreamy landscapes featuring bamboo, ponds and hills. With strongly contrasting black and white, his copperplate "Spring Hills" shown in the exhibition presents an unusual wonderland by casting unrealistic light and shadow upon trees, hills and sky.
Unrealistic colors also generate optical illusions. For example, by depicting wild leaves and branches in peculiar colors, Zhang, director of the Printmaking Department at Hubei Academy of Fine Arts, produced a woodcut series of exotic jungle scenes which seem derived from fantasy.
Individual pursuits
Apart from nature, artists are also concerned with the lives of contemporary individuals. This is illustrated in Song's brilliant woodcut series "The Seeker," which shows that he is especially gifted at conveying his philosophical reflections upon individual experience by employing surrealism.
Born in Guangzhou in 1970, Song is a professor at Guangzhou Academy of Fine Arts. Awarded Lu Xun Printmaking Prize in 1999, the highest printmaking prize in China, Song is one of the most outstanding printmaking artists of his time.
In his woodcut series, the seeker often wears a pair of glasses and small wings on his back and sometimes has a book in his hand, which indicates that he is seeking truth. Pointing at a pocket which seems to contain something, the seeker in "No.50" of the series intends to gain more material possessions. In "No.14" of the series, with his body soaking in a glass of beer, the seeker looks up and is to be lifted by a mysterious big hand from above. This work implies that the seeker is sick of alcoholic stimulation and hopes to be saved.
In "No.13," influenced by spirituality, the seeker is engrossed in reading some publications, wishing to find answers to his questions. Touched by the seeker's change in his attitude towards life, a pair of mysterious hands hold a magnifying glass to examine the seeker. In "No.20," the seeker swings a jump rope for a skipping man and excitedly discovers that the man gets healthier and happier by exercising regularly. In "Tree of Happiness," a pair of big hands hold a tree. The seeker is either resting or strolling on the branches of the tree, appearing to be peaceful, happy and contented on the small wonderland of the tree.
Poetic life
The happiness of individuals is also related to the society in which they live. In the copperplate series "Ideal Society" made by Kong, chairman of Zhejiang Printmaking Artists Association, books on philosophy demonstrates the constant human endeavor to establish a utopian world.
An ideal society is based on a healthy relationship between human beings and nature. Su, chairman of China Printmaking Artists Association, embodies this idea in his brilliant lithograph "Women and Cow" by portraying a group of Mongolian women who are surrounding a cow on the sunny grassland. The intimate relationship between the women and the cow suggests the essence of ecological development.
The basic principles of ecology originated in ancient Chinese philosophy and also influenced ancient Chinese architecture. Featuring the images of ancient buildings in Beijing, Zhou, professor of Central Academy of Fine Arts, created a silkscreen series of poetic urban scenes, showing his love for ancient structures.
The beauty of ancient Chinese art enriches our lives. The watercolor woodcut "Musical Instrument" by Chen, professor at Central Academy of Fine Arts, showcases the poetic beauty of an ancient Chinese musical instrument by repeating the same image in different hues.
The charm of ancient Chinese ceramics is appreciated by Lu, director of Printmaking Committee of Shanghai Artists Association, who presents the poetic and elegant appeal of ceramic vases in his silkscreen series.
A poetic life is illustrated in He's colored woodcut "Happy Garden." He is the vice chairman of Yunnan Artists Association. This colorful work depicts a couple enjoying tea under a tree while embracing both the beauty of nature and the ancient Chinese culture of tea-drinking, feeling happy and content in the verdant wonderland.
"Gathering representative prints by artists from different parts of China, this exhibition demonstrates the profound charm and potency of contemporary Chinese printmaking art in a digital age," said Wang Shaoqiang, director of Guangdong Museum of Art.
(The writer is a researcher for Guangdong Museum of Art.)
Venue: Halls 1,2,3,4, Guangdong Museum of Art
Add: 38 Yanyu Road, Ersha Island, Guangzhou
Date: Now through Sept. 24
Time: 9 a.m.-5 p.m., Tuesdays to Sundays
Tel: (020) 8735-1468