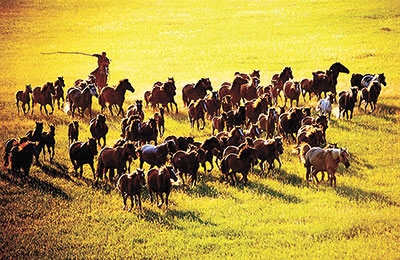 SHENZHEN'S semi-permanent summer climate is nice, but some of us crave a real autumn experience complete with mountains decked out in full autumnal glory, golden leaves falling from trees, flying around like dancing butteries, and covering walkways with a gilded carpet.
China National Geography once traveled the country from Arxan in Inner Mongolia Autonomous Region to Jiuzhaigou Valley in Sichuan, crossing mountains, lakes, valleys, deserts, forests, wetlands, prairies, urban areas and countryside, with the sole purpose of identifying the most captivating autumn spots in China. Here we list some of them for you:
Changbai Mountain,
a palette of wild colors
The fact that autumn in the north is the most beautiful is beyond dispute. Changbai Mountain, recognized for its splattering of color during autumn, is a representative of northern fall beauty. Changbai is a mountain range that extends from Heilongjiang, Jilin and Liaoning provinces in Northeast China to North Korea.
The mountain is named so because its main peak, Baitou Mountain (White-head Mountain), is covered with white rocks and thick snow. Most of the peaks reach 2,000 meters above sea level.
The mountain resort is nothing less than flamboyant when autumn comes around, making it look like a spilled paint palette. The gorgeous folliage, the evergreen coniferous forest, tier upon tier of birch groves, and the tundra in a symphony of color present a stunning autumn view.
Changbai Mountain is also home to a cluster of dormant volcanoes. Over 100 volcanic sites scatter about the mountain. The altitude of the largest volcano is about 2,600 meters above sea level, with a diameter of roughly 4.5 kilometers and a depth of about 800 meters. The view of the crater from its rim is very impressive.
Picturesque autumn scenery
in Hulun Buir
Some people comment that Hulun Buir is more beautiful in summertime, with green dousing every scene; even the air seems to be green with freshness. But a mild summer is not all Hulun Buir has to offer.
As temperatures drop, Hulun Buir Prairie takes on a new look with yellowing grass and forests, providing tourists as well as photographers with stunning scenery. The fertile prairie provides an ideal area for farmers to keep their animals.
Considered the "most unsullied prairies" in China, Hulun Buir Prairie in northeastern Inner Mongolia, welcomes autumn with golden grass and fattened animals. Blessed with four seasons, this place is endowed with an abundance of picturesque landscapes that has never failed to mesmerize any of the visitors that have set foot on this land.
Named after the Hulun and Buir lakes, the grasslands feature forests, rivers and lakes. After May, the green grassland is dotted with colorful flowers, birds, and cattle and sheep scatter among the grasses. When you come here, don't miss out on local activities, including horseback and camelback riding, horse racing and wrestling.
(Chen Xiaochun)