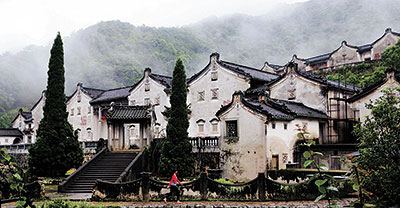 Meizhou, populated by the Hakka people, is not only crowned as the unofficial capital of Hakka culture but also home to a plethora of sublime sights.
WITH the Xinghua Expressway opened to traffic Sept. 28, the road trip from Shenzhen to Meizhou in northeastern Guangdong Province is cut by 30 minutes, providing convenience not only to people traveling home to Meizhou but also to tourists who plan to explore the Hakka city.
Drivers from Shenzhen to Meizhou can take Boluo-Shenzhen Expressway and Huizhou-Heyuan Expressway before turning to Shantou-Zhanjiang Expressway and Xinghua Expressway. The trip to Meizhou is now cut by 30 to 40 minutes from the original four and a half hours to four hours.
Changtan
the Sun Moon Lake in Lingnan
Changtan, nicknamed "the Sun Moon Lake in Lingnan," got its name for its deep-running, long and narrow current. Accompanied by lush vegetation on both sides, mostly redwood and maples, Changtan Tourist Resort presents the best view with the redwood leaves in green and red between October and November.
Rent a boat to cruise Changtan and indulge yourself in the dream-like mist-covered water. Traveling here might remind you of Wuxia Gorge though Changtan appears more delicate. The Li River in Guangxi is a go-to rafting destination, but the view at the lesser-known Changtan River is more magnificent.
Location: Changtan Town, Jiaoling County, Meizhou 广东省梅州市蕉岭县长潭镇
Transport: Drive to Changtan Tourist Resort by car or take a bus from Meizhou Bus Station to Jiaoling
Lingguang Temple
a 1,000-year-old temple
Lingguang Temple is a great spot to hit up when looking for things to do in Meizhou. With babbling spring water and shrouded in fairyland-like mists, the place has become a renowned summer resort in Guangdong for its revitalizing atmosphere.
First built in 861 in the Tang Dynasty (618-907), the temple is a provincial-level protected cultural relic. In front of the temple stand two stately 400-year-old cypress trees. One is dead, while the other is still living. The former stands solid and somber like a soldier, while the latter flourishes in dark green.
Though small in size, the temple welcomes worshipers from around the world.
Tickets: 35 yuan
Location: Yanyang Town, Meixian District, Meizhou 广东省梅州市梅县区雁洋镇
Transport: Drive to the destination by car
Yearning Tea Plantation
a place for tea and scenery
Yearning Tea Plantation Tourist Attraction, the first National 5A Tourism Destination in eastern Guangdong, is situated in the hometown of Ye Jianying, a well-known Chinese communist general. It's home to over 2,000 tea plants and 14 villas.
The green stretching rows of the tea plantation is sure to win the hearts of shutterbugs. There you can check out how tea farmers pick tea leaves as well as stage countless picturesque photos. Besure to come prepared with plenty of poses in mind.
Tickets: 80 yuan
Location: Changjiao Village, Yanyang Town, Meixian District, Meizhou 广东省梅州市梅县区雁洋镇长教村
Transport: There are two buses at Meizhou Bus Station that go to Yanyang Town; the departure times are 6:40 and 10:30 respectively; 7 yuan per person
Other tourist sites include the Hakka Natural Village, Wuzhishi Scenic Area, Pingshan Mountain Terrace, and so forth. (Chen Xiaochun)