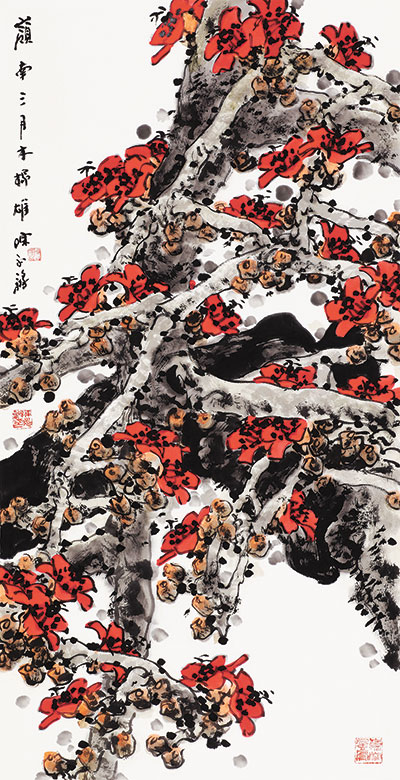 Debra Li
debra_lidan@163.com
CHEN YONGQIANG, a Guangzhou-based artist known for his freehand ink and wash paintings of exemplary flora and fauna, is showing more than 50 pieces of his works at Artron Art Center.
He is most well-known for his paintings of kapok flowers, but paintings at the exhibition will also have more traditional subjects like lotus flowers, peach blossoms and birds on display as well as his personal signature sunflowers and grass carps.
Deemed a representative of contemporary Lingnan School artists, Chen's kapok paintings decorate the walls of distinguished venues including Guangzhou Baiyun International Airport and the Great Hall of the People in Beijing. A 9-meter-tall, 5.4-meter-wide kapok painting by the artist has also been chosen as the main feature for the new venue of the Guangzhou Archives Museum.
The Lingnan School of Painting, founded in the 19th century by Gao Jianfu, Gao Qifeng and Chen Shuren, is a revolutionary and innovative development of traditional schools of Chinese painting. Lingnan style exhibits a strong influence from Western visual arts.
Though still bearing Chinese features such as a liberal use of blank space in its paintings, Lingnan School's strokes are complex and anti-traditional, aiming to achieve magnificence and vividness rather than inspiring tranquility or nostalgia. Influenced by impressionism, Lingnan paintings also focus on brush strokes and bright colors. In contrast, traditional ink wash paintings are made with subdued tones, stressing "with paleness comes the soul of brushes and ink."
Visitors at the show will not be surprised to find a resemblance between Chen's sunflowers and Vincent van Gogh's, as in both an overflowing life and passion is manifest.
Chen, born in 1948 in Guangzhou, began painting at a young age, learning with masters like Liang Zhanfeng and Li Gemin. Sent back to their hometown in a village in Nanhai County, Chen's family returned to their rural roots to be farmers at the beginning of the Cultural Revolution. Chen said he was thankful for the life he had in his hometown, whose wilderness had nurtured his love for nature and inspired his paintings.
In 1973, Chen's "Jumping Carp" was selected to a national fine arts show and he first made his name as a "farmer artist." The painting was featured in Rong Bao Zhai's wall calendar that year. (Rong Bao Zhai is a world-renowned old-brand shop of calligraphy and painting works.) Later, Chen furthered his mastery of painting at the Guangzhou Academy of Fine Arts.
"I never picture myself as an artist," Chen said after Friday's opening ceremony. "I'm a farmer who sings to express his love for his hometown, for the fertile land and what it has to offer."
Chen also thinks art cannot be taught. "A passion that borders insanity is a gift in itself, and is the first step towards art."
Artist and critic Xie Chunyan compares Chen's paintings to modern women. "Unlike the traditional flower paintings that focus on the elegance and frailty of flowers, Chen's flowers are like healthy, strong, and passionate modern women," Xie said.
Dates: Until Oct. 25 (open to public through Oct. 18)
Venue: 5/F, Artron Art Center, 19 Shenyun Road, Nanshan District (南山区深云路19号雅昌艺术中心5楼)
Buses: 104, 325, 326, 390 (Shahe Jiangongcun Stop)