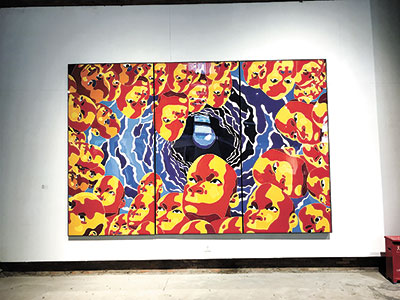 Cao Zhen
caozhen0806@126.com
FOURTY-FIVE artists from Shenzhen and partner cities are showcasing their paintings, installations, sculptures and videos at "City As Museum: The Second Shenzhen Biennale of Contemporary Art" exhibition at two venues in OCT-LOFT in Nanshan District.
Organized by the Shenzhen Literature and Art Federation, Shenzhen Fine Artists Association and Shangqi Art, the biennale focuses on "city" and fine-tuning the art museums' positioning. Along with the exhibition, a discussion was held Oct. 20 by art museum curators and gallery managers from Shenzhen, Guangzhou, Beijing, Hong Kong and Shanghai. A research project focusing on Shenzhen enterprises funding culture and art was also introduced, since many real estate companies have been engaged in building art museums, galleries or cultural spaces in lieu of a boom in industrial and residential construction.
The artists and curators believe that developing art museums needs open-minded policies from the local government, capital support from enterprises and participation from artists and art communities.
"The biennale also examines the condition of Shenzhen's contemporary art scene and many artists involved in the exhibition are from local galleries," said the biennale curator Yang Yong. "Contemporary art reflects current social ideology. We hope visitors from all walks of life will be able to form a unique understanding from different perspectives."
The biennale invited international art curator and critic Hou Hanru, OCAT Shenzhen curator Luan Qian, Artron Art Group chairman Wan Jie, Asia Art Archive co-founder and director Claire Hsu, artist and Shangqi Art founder Yang Yong, Beijing Yang Gallery founder and artistic director Yang Yang and Guangdong Times Museum curator Zhao Qie as the developmental committee members.
The exhibition features both emerging artists and established names. Two-thirds of the exhibitors are Shenzhen artists.
In Beijing-based artist Fang Lijun's woodcut print series "2016," visitors can admire his trademark "bald head" subjects, a stylistic trait he has used in his art for more than 20 years. A most sought-after contemporary artist, Fang's art expresses freedom and integrity in two different settings: traditional and modern era, and the will of making a change. He once explained that through these bald figures, he is sending a message about morality and how people define what is normal based on physical appearance rather than internal moral character.
Shenzhen-based artist Xue Yang's "You Are the Future" combines a sculpture, videos and photographs to express the relationship between individuals and the world. "Essentially, humans are lonely but we should face the relationship between loneliness and dependency thoughtfully," said Xue.
Another artist from Shenzhen, Li Rongwei, hangs a set of acrylic plates on the ceiling in his installation "20170519" to reflect the colors of the city. "In my early years in Shenzhen, I lived in the luxuriantly green Overseas Chinese Town, but in the Metro, the color schemes are gray and cold. When you go to food streets or business areas, resplendent neon lights and LED signs strike your eyes. So I compiled these colorful plates to reverberate a lively consumer society," said Li.
Young Beijing artist Zhang Xinyi plays with classical oil paintings in her "Icon" series. She uses simple cartoon-like strokes and bright, warm colors to reproduce famous paintings, such as Monet's "The Luncheon on the Grass," Raphael's "The Three Graces," Botticelli's "The Birth of Venus" and Caravaggio's "Salome With the Head of John the Baptist."
"Nowadays, people can look up classical paintings on the Internet, but it only provides an ambiguous outline of the work, not the details of the masterpieces. Under the influence of cyber aesthetics, I created the 'Icon' series by keeping the main plot of each masterpiece using friendly warm colors and simple strokes, and throwing away the details of the classics," said Zhang. "Historically, an 'icon' was a religious work of art in Medieval churches. Now in computing, an 'icon' is a pictogram or ideogram displayed on a computer screen to help the user navigate a computer system or mobile device. So my 'Icon' series acts like a link between the modern and the classical."
At the exhibition, visitors can use WeChat mini-app "博物官" to scan paintings and get detailed Chinese-language description of the artworks.
Dates: Until Nov. 19
Hours: 10 a.m.-5:30 p.m., closed Mondays
Venue: C2 Hall and C-8 J Space, North Area, OCT-LOFT, Nanshan District (南山区华侨城创意文化园北区C2展厅和C-8栋君瑞汇当代艺术空间)
Metro: Line 2, Qiaocheng North Station (侨城北站), Exit B