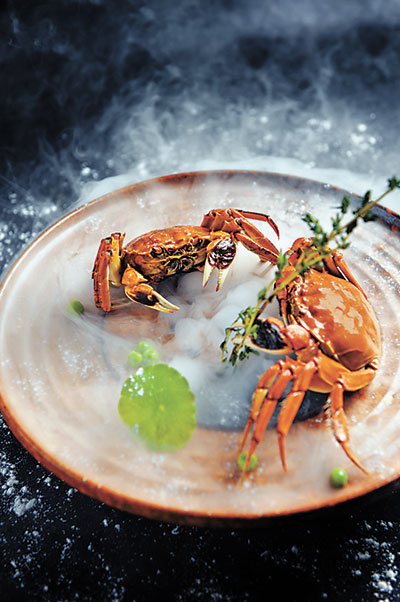 FROM now until Nov. 15, patrons of Shang Garden can indulge in the flavors of autumn with a seasonal hairy crab set menu and other exquisite à la carte hairy crab dishes prepared specially by Futian Shangri-La, Shenzhen's Chinese executive chef Anthony Dong.
Besides classic dishes such as steamed hairy crabs and crab fat and tofu soup, the set menu also features other innovative creations such as Sichuan-style fresh shrimp and stir-fried hairy crabs with pepper, a perfect combination of refreshing seafood with a spicy punch of pepper; wholesome soft shell turtle soup with shrimp and hairy crabs and mutton to balance the flavors; and fried omelet with chunky crab meat, providing added texture to the smooth fried eggs and olive kernels.
Special à la carte hairy crab dishes include Huaiyang cuisine such as golden crab meat soup with bird's nest, hairy crab baked in ginger and garlic, crab meat and pepper tower in a hot and sour sauce, and crab roe soup dumplings.
The hairy crab menu highlights Shang Garden's expertise in traditional Huaiyang, Cantonese and Sichuan cuisines, borrowing from the different styles to create unforgettable flavor palettes. Only premium ingredients are used for each dish and special efforts are made to ensure that the ingredients remain fresh all the way up until they are presented on the dining table.
In addition, in-line with Shangri-La's strict food safety standards, traditional drunken crabs are made with steam-cooked crabs to ensure safety without compromising on taste.
The dishes are prepared with hairy crabs from Changdang Lake. Spanning over 81.9 square kilometers with more than 90 percent of the area located in Jintan District, Changdang Lake is one of the 10 largest freshwater lakes in Jiangsu Province.(Tang Li)