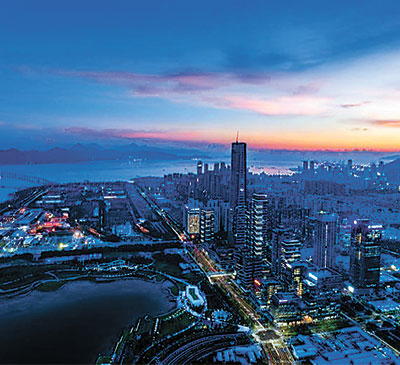 Chen Xiaochun
654789759@qq.com
WITH original works ranging from the imagery-provoking writings of a well-known novelist to mundane daily shots taken by an amateur photographer, to a short film documentary and an architect's expert commentary, the public section of "City and Me — Storytelling" was held at the International Urban Image Festival at MixC World on Oct. 22.
"City and Me — Storytelling" is an open-discussion event featuring invited guests who shared enlivening stories about their lives in Shenzhen and the relationship between imagery and the city, each presenting a personal perspective on Shenzhen with a public audience.
Present at the event were novelist, playwright and theater director Kang He, vice dean of the School of Architecture & Urban Planning of Shenzhen University Rao Xiaojun, renowned documentary photographer Yang Yankang, Leica Oskar Barnack Newcomer Award winner Huang Jing and Yan Yudian, elected photographer for "City and Me — Public Image Creation Project."
Kang shared video footage of his film that is currently in the works, as well as his personal creation process with the audience. Employing a brand-new shooting technique, he captured the harried flow of steps of commuters outside the Metro on their way to work, the movement of sanitation workers sweeping leaves off city paths, and birds flying over the city skyline, attempting to infuse ordinary events with enthusiasm.
Yang, who has earned the title "the most influential photographer in China" three times, shared his story of being a non-local in Shenzhen for over 30 years. Yang came to Shenzhen in 1984 as a migrant worker. While working as a baker, he befriended a customer named Li Mei who worked for a magazine called Modern Photography. Li enlightened Yang who has since fallen in love with photography.
Year after year, Yang stays in Shenzhen for a set period of time and then spends the rest of the year traveling outside the city shooting photos. "City and me, I have never totally left the city. But I love indulging myself and searching for another type of life away from city. When I come back to Shenzhen, I study and read. When I am outside, I search for touching moments like a stray dog," said Yang.
Brought to Shenzhen by his parents at the age of 4 months, post-80s Huang can be called a Shenzhen native. Huang shared 12 photos he took of the city. "I bring my camera with me whenever I go out, whether for shopping, walking the dog or for a stroll, and I have captured a lot of interesting happenings nearby where I live," said Huang.
Huang said that now most of the places he frequented when he was a kid are unrecognizable and pitied that he played video games instead of exploring photography more in his youth.
The exhibition "City and Me — Public Image Creation Project," co-initiated by the International Urban Image Festival, China Resources (Holdings) Co. and Magnum Photos, and undertaken by Daken Art, is also exhibiting 27 works selected from a total of about 600 works submitted by 200 participants from the public.