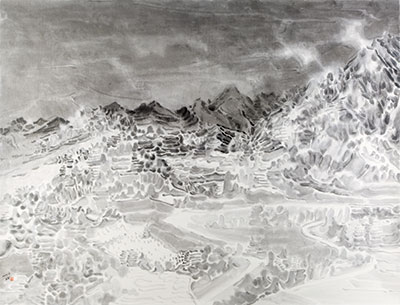 Wang Haiying
why.art@163.com
EXEMPLIFYING the beauty of southern landscapes in China, an exhibition entitled "Artworks by Guangdong Artists Huang Guowu and Duan Yuanwen" is currently on display at Guangdong Museum of Art in Guangzhou through Nov. 9.
With ink-wash paintings by Huang and oil paintings by Duan, the exhibition will include more than 100 recent works by the two artists, revealing their intense affections for southern sceneries.
Homeland in dreams
Born in Guangdong Province in 1963, Huang graduated from the Traditional Chinese Painting Department of Guangzhou Academy of Fine Arts in 1988, then from 1988 to 1998, Huang taught there for 10 years. He then went on to pursue his post-graduate studies at the Traditional Chinese Painting Department of Central Academy of Fine Arts from 1998 to 2000. In 1989, he won the bronze prize at the Seventh Chinese National Fine Arts Exhibition. As a national-level first-class artist, Huang is presently acting as the deputy director of the Art Creation Department at Guangdong Painting Institute.
As a Guangdong native, Huang embodies a profound love for the beautiful landscapes of the province. He often travels around Guangdong making numerous sketchbook entries in order to record his fresh and rich insights about the vitality of the trees, streams and hills along the way. Deeply impressed by various idyllic scenes during daytime, he says he frequently dreams of the landscapes that he has encountered and illustrates the hazy illusions from his dreams in his paintings. For instance, in his ink-wash series "Clouds and Moon," which are on display at the exhibition, Huang innovatively employs relaxed free-hand brushstrokes and various shades of light ink to depict the dreamlike lakes or woods which radiate fascinating appeals.
Love for classical gardens
Attracted to Chinese ink-wash paintings for their freehanded brushstrokes, Duan creates his oil paintings with unique Oriental appeal, assimilating the techniques of ink-wash paintings in his oil paintings. For example, in his series "Hometown Gardens," he adopts rhythmic and skilful freehand brushstrokes to demonstrate the extreme elegance of the exquisite gardens, conveying his love for southern Chinese landscapes and classical art.
Born in 1978 in Hunan Province, Duan graduated from the Oil Painting Department of Guangzhou Academy of Fine Arts in 2003. He participated in many major national exhibitions and won a bronze prize at the 10th Chinese National Fine Arts Exhibition in 2014. He is a professional artist at Guangzhou Painting Institute at present.
"With extraordinary painting techniques that were acquired through years of academy education, both artists excel at using skillful freehand brushstrokes to convey the sceneries as seen in their hearts, revealing their strong emotional reactions to the beauty of the landscapes," says Wang Shaoqiang, director of Guangdong Museum of Art.
(The author is a researcher of Guangdong Museum of Art.)
Venue: Halls 10, 11, 12, Guangdong Museum of Art
Add: 38 Yanyu Road, Ersha Island, Guangzhou
Date: Now through Nov. 9
Time: 9 a.m.-5 p.m., closed Mondays
Tel: (020) 8735-1468