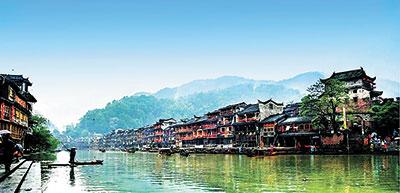 IN a recent list released by the Lonely Planet on the best travel destinations of 2018, Hunan Province of China was selected for its natural and cultural eccentricities. Travel experts officially hold the view that Hunan is really worth traveling to.
Zhangjiajie has a fantasy wonderland-like feel about it; so much so, its towering rock forests of Karst mountains were filmed for use as the landscape in the background of the movie "Avatar." Now the famed scenic spot has added the longest suspended glass walkway in the world, not to mention the charm of a hiking route rarely reached by visitors.
Chinese travelers usually long for the nostalgic charm of nearby Fenghuang Ancient Town, and wiser travelers may choose to go for the hinterland in western Hunan by ship, which was a route taken by Shen Congwen, one of the greatest modern Chinese writers, to go back to his hometown. There, people of minority ethnic groups revere nature as well as ghosts and gods, permitting tourists a glimpse into their world of spiritual simplicity and escape from the hustle and bustle of modernization.
Going to Hunan during an off-season is the wisest choice if possible, for accommodations will cost less and overcrowded transportation will be avoided. If going to Hunan Province, you had better not miss the following sights and places.
Fenghuang Ancient Town
When speaking of ancient towns, Fenghuang always ranks highly on the list of best preserved traditional Chinese villages. Built in 1704, this old town has been recognized as a National AAAA Tourist Attraction for its charming scenery of multiple ancient towers, brides, streets, and other buildings as well as a hub of rich Miao, Tujia, and 26 other ethnic minority cultures.
After breaking from the cities, Fenghuang's ancient stilted buildings, murmuring Tuo River and unique wooden boats will greet you and enable you to take irreplaceable pictures.
Dongting Lake
Although Dongting Lake has shrunk dramatically in recent years, it still ranks as the second largest freshwater lake in China, following Poyang Lake in Jiangxi Province. Yueyang Tower and winter migratory birds all draw the attention of visitors. In the wetland nature reserve, one may also be lucky enough to catch a sight of the finless porpoises and wild elk.
Dongting Lake is also famous for historical scenic spots at its fringes, including the Yueyang Pavilion, Junshan Mountain, Tomb of Du Fu, Wen Temple and Longzhou Academy.
Junshan Mountain, which was formerly a Taoist retreat, is a famous 1-square-kilometer island with 72 peaks in the middle of the lake. The island is also famous for its Junshan Yinzhen tea.
Zhangjiajie
Zhangjiajie, as a world natural heritage site, graces visitors' eyes with its mystical landscape. It was listed on the World Natural Heritage Catalogue by UNESCO in 1992. What's more, Zhangjiajie was awarded the title of World Geological Park in 2004.
Zhangjiajie is a natural museum full of spectacles. Huanglong Cave is known as the "best cave in China, a world wonder." Due to its other-worldly formations, its scenic spots are dubbed the "mansion beyond the mansion," the "cave beyond the cave," the "mountain beyond the mountain," and the "heaven beyond heaven."
Tianmen Mountain is another spectacle at Zhangjiajie. The same tectonic movements that created the Himalayas also created these Karst landforms, which are most famous for their natural north-south limestone cavity, being 131 meters high, 57 meters wide and 60 meters long.
Going hiking can leave you with unforgettable experiences. Once you get weary, delicious local snacks are waiting for you in the city below. Local hot pot is absolutely the best choice.
Heng Mountain
Heng Mountain is considered a religious and cultural center of South China. The Heng Mountain West Rail Station has enabled numerous visitors to reach the secluded sacred spot.
People traditionally climbed the mountain by foot, but now inroads for vehicles and bicycles are more popular. From September to November every year, a bicycle race is held in Heng Mountain. Many netizens also arrange for riding journeys on weekends. (A Ding)