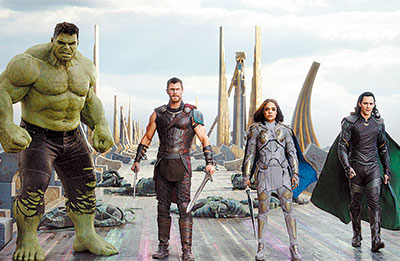 《雷神3:诸神黄昏》
Directed by Taika Waititi, this is the third installment in the "Thor" series.
Returning to his native Asgard after escaping* imprisonment*, Thor (Chris Hemsworth) is drawn back into the sibling rivalry* between him and the devious shape-shifter Loki (Tom Hiddleston), who's pretending to be their father, Odin (Anthony Hopkins), after dumping him on the earthly plane. Further competition for Odin's throne* arrives in the form of the brothers' long-lost sister, Hela (Cate Blanchett). A Norse terror with a Goth streak who lives up to the title of Goddess of Death, she's been redacted* from Asgard's history and isn't happy about it. While Hela puts a reluctant* Skurge (Karl Urban) to work as her henchman*, Thor somehow becomes a prisoner again, this time on the planet Sakaar.
Ruled by Jeff Goldblum's dictator Grandmaster, Sakaar is home to a gladiatorial contest that will pit Thor against* the Hulk — who likes love beads and soaks in the hot tub during his nonfighting hours. Another larger-than-life character, Thor's fellow prisoner Korg (built on director Waititi's motion-capture performance), proves a first-rate comic foil*. A stone man with a revolutionary calling, he's a ready ally when Thor gathers together a team to save Asgard.
Also on board is a willing Bruce Banner (Mark Ruffalo), who has just emerged from a long stint in Hulkdom. Valkyrie (Tessa Thompson), a hard-drinking warrior and part-time bounty hunter, exchanges shy glances with Thor when she isn't talking tough and kicking butt. Idris Elba's steadfast Heimdall, guard of Asgard, uses his indispensable know-how to advise Thor.
The high-powered visuals, both practical and computer-generated, include familiar elements from the film's predecessors. Least typical of the genre are the intentionally tacky* interiors and primary colors of Sakaar's privileged quarters, the setting for some of the movie's better surprises.
There are moments that might bring a viewer back to the day's news: a citizens' uprising, an exodus* of refugees. But amid the battles — on land and sea, in arenas and in the air — it's the jokes that amp* the story's comic-book formula. (SD-Agencies)