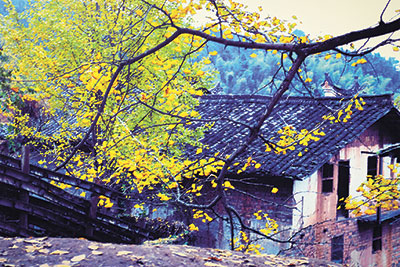 WHEN people in North China enjoy the changes between the seasons, people in Guangdong Province feel nothing but hot. But if you say there's no autumn scenery to be found in the province, well, you just don't know the right place to look.
In the northeast of Guangdong Province, there's a city rarely known to the public. If you want to find a real autumn scene, Nanxiong City is undoubtedly your best choice.
Pingtian Town
When yellow ginkgo leaves decorate the autumn of Nanxiong City, nobody can deny the beauty of Pingtian Town, which is well-known for its beautiful ginkgo forests.
Junying Village has the highest elevation in Pingtian Town. Several old ginkgo trees, a small pond and a few old houses can help you find inner peace as you watch the sunrise at dawn.
Ancient walls and tiles are symbols of Fengwu Village. The antique background makes the yellow ginkgo leaves even more enchanting as they dance with the wind.
Youshan Town
Youshan Town is not as famous as Pingtian Town, but it is home to the oldest ginkgo tree in Nanxiong. Over 2,000 ginkgo trees, over 100 years old, grow in this area. In Huangdi Village, there's a tree that boasts an age of over 1,260 years, leading it to be dubbed "the oldest tree in South China."
Maozifeng Town
Maozifeng Town enjoys a reputation as the "Jiuzhaigou in north Guangdong" for its eye-catching natural beauty. When yellow ginkgo leaves pave the ground, creating a soft carpet for the land, the whole scene is just like an oil painting by a master.
Nanxiong red sandy bed
We can compare the beauty of red sandy bed in Nanxiong to the spectacular view of the Red Sandy Ridge in Namibia. Nanxiong red sandy bed features magical and fertile red earth, which is a gift given by nature.
Zhuji Ancient Lane
Zhuji Ancient Lane, dubbed "the No. 1 ancient lane in Guangdong Province," is the only traditional lane left by the Song Dynasty (960-1279). The total length of the cobblestone-paved lane is over 1,500 meters. Ancient buildings, towers and ruins are maintained with the characteristics of the different dynasties.
Cangshi Village
The topography of Cangshi Village belongs to the Danxia landform, which refers to various landscapes found in southeast, southwest and northwest China that "consist of a red bed characterized by steep cliffs." Known as a "little Danxia," the village is constituted by mountains, canyons, waterfalls, deep pools, rare stones and rivers. When the glow of sunset disperses, the most beautiful moments arise.
Besides the beautiful villages in Nanxiong, another thing you can't miss is the local delicacies, including the Nanxiong dried salted duck, Nanxiong gingko, Nanxiong stuffed bean curd as well as flower and fruit cakes.
Transport : It takes less than one hour to reach Shaoguan High-speed Railway Station from Guangzhou South Railway Station. Then you can take Bus No. 22 to Shaoguan East Railway Station, where you can take a bus from Shaoguan to Nanxiong in every 15 minutes.
(A Ding)