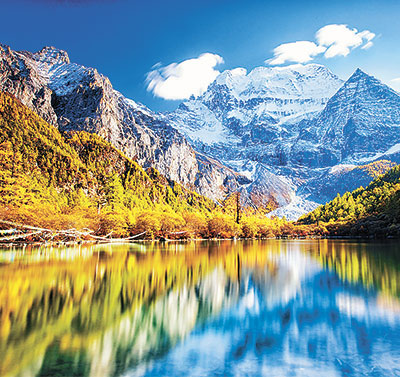 Chen Xiaochun
654789759@qq.com
MAKING full use of my annual leave, I traveled to Daocheng Yading and was lucky enough to enjoy the most stunning views of "the last pure land on the blue planet" in early November, a bit before its road closure period.
My friend and I started our real-sense journey in Chengdu, and traveled by bus through Siguniang Mountain (Four Girls Mountain), Danba Jiaju Tibetan Village, Xindu Bridge, Kazila Mountain, Haizi Mountain and Daocheng County, before finally arriving at Daocheng Yading.
The scenery of the trip turned more and more spectacular and left us in awe as we traveled along, getting higher and higher in altitude.
As we are from Guangdong Province in South China, which barely has either a winter or even an autumn season, the true golden autumn scenery with snow-clad mountains excited us right from the start.
At the beginning of the journey, taking photos of trees with their golden leaves against a super blue sky, and having fun playing with the snow on the roadside, made up our day. A glimpse into Tibetan life also added a local touch to the journey.
Siguniang Mountain is located in Xiaojin County, Aba Tibetan and Qiang Autonomous Prefecture, Sichuan Province. It consists of four peaks, namely Daguniang Peak (1st Peak), Erguniang Peak (2nd Peak), Sanguniang Peak (3rd Peak) and Yaomei Peak (4th Peak). Erguniang Peak, enjoying an altitude of 6,250 meters, is the second highest peak in Sichuan.
Famous for its beautiful scenery, Siguniang Mountain is reputed to be the "Oriental Alps." At the time we went there, the peaks were covered with white snow, while the lower parts were the golden-yellow of leaves or the green of pine trees at lower altitudes. White Tibetan towers, colorful prayer flags and Mani stone piles can be seen everywhere in the tourist resort.
Jiaju Tibetan Village, located in Danba County, Sichuan Province, is home to over 140 Tibetan-style houses with crown-shaped roofs, red leaves and white walls. The houses are scattered all around the mountains like the stars in the sky. The village has many groves and terraced fields, and refreshing apples and pears are the main autumn fruits.
On the way to Daocheng County, there are a lot of beautiful natural landscapes, and one that really is worth mentioning is Daocheng Yading Geopark. The geopark features an immense area, which was covered entirely in snow and dotted with stones when we arrived.
The wind was roaring there, and the clear blue sky with slowly drifting white clouds pierced by dazzling sunlight felt so close to us that it was as if it were right above our heads. The view was really stunning and gave me a feeling like I was standing at the extreme end of the earth.
A journey to Daocheng is not complete without visiting Yading Scenic Area. Daocheng Yading, the harmonious utopian land of snow-capped mountains, awe inspiring glaciers, steep cliffs, magnificent canyons, vibrant virgin forests, grassy marshlands, vast pastures, crystal clear lakes, dense woods and pure air, was the final destination of our journey.
Located at an elevation of 3,800 meters, Yading is home to three holy mountains and three lakes, namely Jambeyang (Yangmaiyong), Chanadorje (Xianuoduoji) and Chenresig (Xiannairi) and Pearl Lake (Zuomalacuo Lake), Five-color Lake, and Milk Lake.
The three holy mountains are all covered by snow and Xiannairi, the highest of the three, boasts a height of 6,032 meters. Yangmaiyong and Xianuoduoji enjoy the same altitude of 5,958 meters above sea level.
Hiking to see Five-color Lake and Milk Lake is not an easy job but definitely worth the effort. Five-color Lake, at 4,600 meters above sea level, is located between the Xiannairi and Yangmaiyong snow mountains. The name comes from the appearance of five different bright colors in the lake caused by the refraction of the sunlight in the water.
The crystal blue water of Milk Lake, at an elevation of 4,500 meters, is shaped like a water droplet, and is surrounded by a snow covered mountain. Although we were frozen when we got there, the lake presented a different kind of beauty, and we had a lot of fun on its icy surface.
While hiking in the area, we not only witnessed stunning views of the lakes, grasslands and snow-capped mountains, but also experienced local Tibetan culture at the local temples and monasteries. Additionally, yaks and goats were always loyal company throughout the journey.