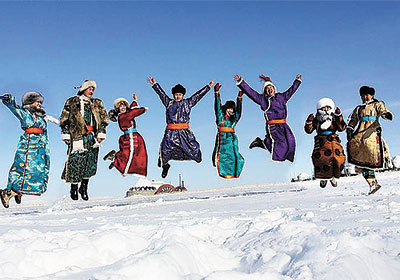 WITH the weather getting colder and colder these days, the scene of white snowflakes drifting down from the gray sky and the desire to dance in a white wonderland may come to mind for many people.
For people in South China, who could easily be enraptured by the sight of snow, here is a list of places where you can have a romantic getaway with a frosty date and enjoy breathtaking winter scenery in China.
Stunning winter scenes in
Lake Kanas
Most people who have witnessed or heard of the striking autumn scenery in Lake Kanas, which presents a picturesque landscape of forests in a riot of colors with gold, red, blue and green hues, may not know that in winter the place turns into a tranquil and beautiful world of ice and snow.
Nestled deep in the forests and mountains of Atlay near the very northern tip of Xinjiang, white frozen Lake Kanas covered with a thick blanket of snow and surrounded by crystallized snow-covered willows in winter is sure to take you away from the hustle and bustle of city life and quiet your mind into a peaceful state.
If you have enough time, spare one night to visit Hemu Village to experience the tranquility that can hardly be found in the city. There's nothing quite like a stay in one of these houses amid the heavenly scenery.
Ili, a fairyland in winter
If you come to Ili in winter, the charming views here will make you feel like you're entering a fairyland. The snow and light together will present an amazing art feast to you, letting you feeling amazed at the wonder of nature.
Lying at the northern foot of the Tianshan Mountain, Ili Kazak Autonomous Prefecture is in the west of Xinjiang Uygur Autonomous Region. It's one of those places where even a single glimpse can take your breath away.
It's always sunny in Ili in winter, not too dry nor too wet or cold, making it a great choice for appreciating snowy sights.
Sertar, the land of snows
Sertar County, located in the northeast of Tibetan Autonomous Prefecture of Ganze in Sichuan Province, is a Tibetan county of animal husbandry with a long winter and no summer throughout the year.
The county, located at the most remote corner of northwestern Sichuan Province, is home to complex geological landforms. There are boundless grassland, crisscrossed rivers, dense lakes, and huge snow-capped mountains. The snow-capped mountains are over 4,000 meters in altitude with low temperatures, long winters and no summer.
Houses for monks and nuns are sprawled out all over the valley and up the surrounding mountains. The houses are built so close together that they are almost on top of each other.
In winter, the most unforgettable thing of Sertar after snow is the red monk houses with their roofs covered in snow and the monks practicing Buddhism in the white world. Everything seems to quiet down in the vast white world and you can only hear the sound of snow drifting down and monks chanting ageless scriptures.
Snow Town,
the homeland of snow
The lesser-known China Snow Town, also known as Xuexiang in Chinese, is a real snow fairyland featuring thick, abundant, high-viscosity and high-quality snow. It is located at an elevation of 1,500 meters in Hailin city, Northeast China's Heilongjiang Province.
Snow Town, home to over 100 northeast folk houses, sits on a hillside. In winter, the folk houses are covered by heavy snow and are connected together, forming various shapes like running horses, huge rabbits and mushrooms. Snow hangs from the roofs to the ground, creating "snow curtains."
At night, the warm yellow light reflects against the pure white snow, giving a cozy warm touch to the cold winter night. It is a place that people won't forget once visiting it, whose perennial theme is the dreamy white blur of snow.
Hulunbuir,
winter in the grassland
When talking about Hulunbuir in Inner Mongolia Autonomous Region, the first thing that comes to our mind is probably its vast green grassland. If you come here in winter, you cannot see the greenness of summer nor the golden yellow of autumn; instead the silver white of snowflakes will fill your field of vision.
The trees lining the roadsides are all dressed by silvered snow. The running horses and slow-paced camels add some liveliness to the silent, vast, snow-covered grassland.
(Chen Xiaochun)