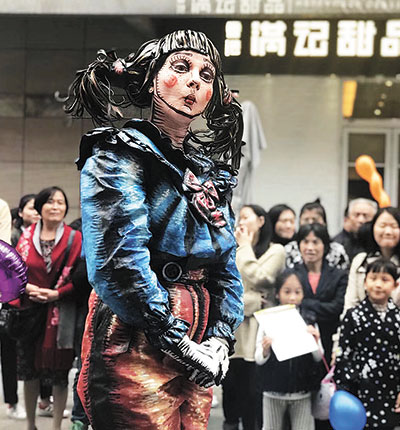 Chen Xiaochun
654789759@qq.com
THEMED "Fringe Here," the annual Shenzhen Fringe Festival kicked off Friday in Nanshan District, and will run till Dec. 10, bringing together 108 diverse art performances presented by over 500 artists from 61 art troupes ranging from music, drama, dance, art parades, workshops and exhibitions.
The highlight of the Fringe Festival this year is the participation of several world-class art groups including Johnman from Germany, who is the art director of the World Championship of Living Statues as well as one of Berlin's best-known and most versatile living statue artists. He is also an old friend to Shenzhen, having joined the Shenzhen Fringe Festival since 2012.
Dutch artist Frans Vogels, a theater producer and mummer who won award for professionals at the World Championship of Living Statues 2017, presented "Snapshot" on Saturday, which combined sound effects, special effects and world-class miming techniques into one.
Portuguese artist Ita Branco, third place winner of the World Championship of Living Statues 2017, presented "Cartoonette" on Saturday, giving living statues a 3-D effect.
Today, Shenzhen audiences can review the history of Western dance in the 20th century in "Condanced Histories," a condensed and humorous one-man performance-lecture by Swiss dance artist Foofwa d'Imobilité.
Within two hours, the self-described "respectful desecration" will cycle through the iconic styles of legends ranging from Rudolf Laban, Martha Graham, Merce Cunningham, Pina Bausch and more.
Attending this event designed for everyone, the public becomes more than audience. Plaza dance aunties will present "Everybody Dances" at the stage of the Fringe Festival. The plaza dance performance is a part of the 2017 Bi-City Biennale of UrbanismArchitecture Collateral Exhibition, a special event of the Shenzhen Fringe Festival.
The festival, organized by the Publicity Department of CPC Nanshan District Committee and the organizing committee of the Shenzhen Fringe Festival, was launched by local designers in 2010. It aims to bring art into urban spaces and communities and to get involved in public life.
Compared with the previous editions of the festival when most of the venues were concentrated in the central area of Nanshan District, the eighth edition of the festival this year touches different corners of the city including Nanshan Cultural and Sports Center Square, Haide Square, Wenxin Square, Guimiao New Village and Haiwan Road to realize the concept of "a stage at every corner."